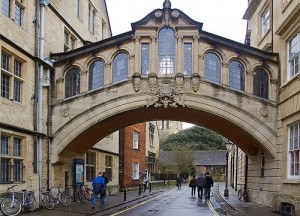 Oxford University has released another batch of typical questions from admissions interviews, to give people a better idea of how our admissions process works. Here is the French sample question (and answer!), preceded by an introduction from the university's Director of Admissions and Outreach. You can find the full set of questions from various subjects here.
'We emphasise in all our outreach activity that the interview is primarily an academic conversation based on a passage of text, a problem set or a series of technical discussions related to the content of the course students have applied for,' says Dr Samina Khan, Director of Admissions and Outreach at Oxford. 'But interviews will be an entirely new experience for most students, and we know many prospective applicants are already worried about being in an unfamiliar place and being questioned by people they have not met – so to help students to become familiar with the type of questions they might get asked we release these real examples. We want to underscore that every question asked by our tutors has a purpose, and that purpose is to assess how students think about their subject and respond to new information or unfamiliar ideas.
'No matter what kind of educational background or opportunities you have had, the interview should be an opportunity to show off your interest and ability in your chosen subject, since they are not about reciting what you already know. Tutors want to give candidates a chance to show their real ability and potential, which means candidates will be encouraged to use their knowledge and apply their thinking to new problems – with tutors guiding the discussion to ensure students feel comfortable and confident. They are an academic conversation in a subject area between tutors and candidate, similar to the undergraduate tutorials which current Oxford students attend every week.'
No matter what kind of educational background or opportunities you have had, the interview should be an opportunity to show off your interest and ability in your chosen subject.
Dr Khan adds: 'It's important to remember that most interviews build on material students will have encountered in their studies or touch on areas candidates mention in their personal statements. Most commonly tutors will provide candidates with material to prompt discussion – for example a piece of text, an image, or a sample experiment whose results they are asked to consider. It is often best to start responding by making very obvious observations and build up discussion from there – solving the problem quickly is less important than showing how you use information and analysis to get there.
'We know there are still misunderstandings about the Oxford interview, so we put as much information as possible out there to allow students to see the reality of the process. We now have mock interviews online, video diaries made by admissions tutors during the interview process, and lots of example questions to help students to familiarise themselves with what the process is – and isn't – about.'
Here is a sample question:
Subject: Modern Languages (French)
Interviewer: Helen Swift, St Hilda's College
Q: What makes a novel or play 'political'?
Helen: This is the sort of question that could emerge from a student's personal statement, where, in speaking about their engagement with literature and culture of the language they want to study, they state a keen interest in works (of whatever type they mention, such as a novel, play or film) that are 'political'. We might start off by discussing the specific work that they cite (something that isn't included in their A-level syllabus), so they have chance to start off on something concrete and familiar, asking, for instance, 'in what ways?', 'why?', 'why might someone not enjoy it for the same reason?'. We'd then look to test the extent of their intellectual curiosity and capacities for critical engagement by broadening the questioning out to be more conceptually orientated and invite them to make comparisons between things that they've read/seen (in whatever language).
So, in posing the overall question 'what makes this political?' we'd want the candidate to start thinking about what one means in applying the label: what aspects of a work does it evoke? Is it a judgment about content or style? Could it be seen in and of itself a value judgment? How useful is it as a label? What if we said that all art is, in fact, political? What about cases where an author denies that their work is political, but critics assert that it is – is it purely a question of subjective interpretation? And so on. The interviewers would provide prompt questions to help guide the discussion. A strong candidate would show ready willingness and very good ability to engage and develop their ideas in conversation. It would be perfectly fine for someone to change their mind in the course of the discussion or come up with a thought that contradicted something they'd said before – we want people to think flexibly and be willing to consider different perspectives; ideally, they would recognise themselves that they were changing their viewpoint, and such awareness could indicate aptitude for sustained, careful reflection rather than a 'scattergun' effect of lots of different points that aren't developed or considered in a probing way. Undoubtedly, the candidate would need to take a moment to think in the middle of all that – we expect that 'ermmm', 'ah', 'oh', 'well', etc. will feature in someone's responses!