In this week's blog post, our colleagues from The Queen's College Translation Exchange share details of their next International Book Club meeting – a really wonderful opportunity for school students to engage with literature from around the world!
The International Book Club for Schools is a chance for sixth-form students to explore foreign language books which have been translated into English with other like-minded, literature-loving peers. We meet once a term to discuss a foreign language book in English translation. No knowledge of the original language is required to take part. The meetings take place over Microsoft Teams, and places are open to school pupils in Years 11, 12 and 13/S4-6. Newcomers are always very welcome!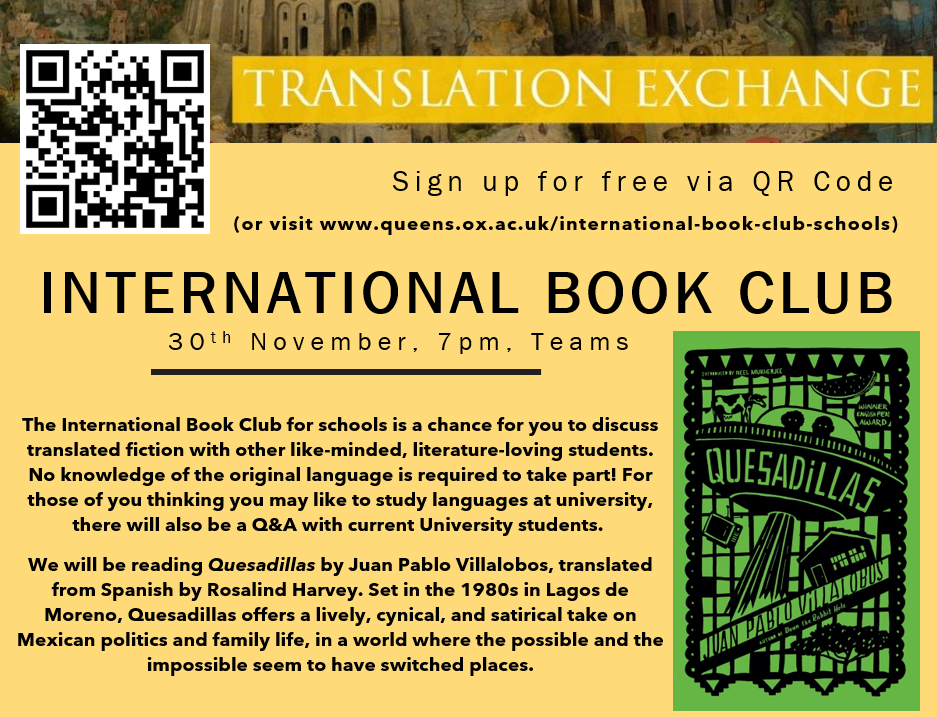 Our next session will be held on Wednesday 30th November at 7pm, and we will be reading Quesadillas by Juan Pablo Villalobos, translated from Spanish by Rosalind Harvey. Set in the 1980s in Lagos de Moreno, Quesadillas offers a lively, cynical, and satirical take on Mexican politics and family life, in a world where the possible and the impossible seem to have switched places.
For anyone thinking of studying languages at university, there will also be a chance to hear more about what this would entail during a half-hour Q&A session with current Oxford University students, chaired by the Schools Liaison and Outreach Officer at the Queen's College. These meetings are a perfect opportunity for students to explore books that aren't on their school syllabus and to engage with some exciting literature in translation.  

Students can sign up to attend the Book Club by completing this Google Form.
To take part in the International Book Club, students will need to purchase and read a copy of the set book in advance of the session. If a student's financial situation makes it impossible to purchase a copy of the book, drop us an email (translation.exchange@queens.ox.ac.uk) and we will do our best to work something out.
If you have any questions about the Book Club, please do also get in touch at the email address above!