This week on Adventures on the Bookshelf, we revisit the Babel: Adventures in Translation Exhibition, which was curated by the Creative Multilingualism programme and ran at the Weston Library last year. You may remember that we featured two resources from the exhibition on the blog: one on translating fables, and one on translating Cinderella. Now we bring you the final resource in that collection, this time on the exciting theme of translating nonense…
One of the items displayed in the exhibition was a collection of translations of Lewis Carroll's Through the Looking-Glass, and What Alice Found There, his 1871 sequel to Alice's Adventures in Wonderland. Alice is a popular topic in Oxford, as Carroll himself was a scholar in Maths at Christ Church College. The daughter of the Dean of Christ Church at the time, Alice Liddell, is said to be the original Alice who inspired Carroll's stories.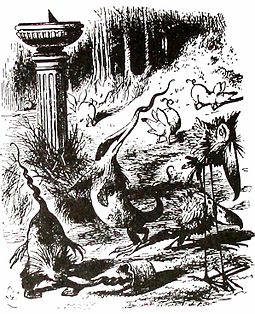 In this sequel, Alice goes through the looking-glass, or mirror, in her sitting room to find an alternative world on the other side, a world a bit like our own but also a bit different. While exploring this world she comes across a looking-glass book, a book where the words are written backwards and need to be read in a mirror. The text that she reads is the poem 'Jabberwocky'.
You might have come across this poem before as it has taken on a life of its own outside of Carroll's novel. The poem recounts the adventure of a warrior who slays the fearsome beast, the Jabberwock. But the intriguing thing about the text is that it is written in nonsense: half the words were invented by Carroll.
Of course, this poses something of a problem if we're thinking about translating the text, because how can we go about translating words that are made up? Because Carroll invented these words, no dictionary definition of them exists, and meaning can therefore be elusive. Take the second word of the poem, for example, 'brillig' – does this mean brilliant, bright, murky, rainy, cold, a particular time of day, or something else entirely?
Nonetheless, lots of translators have risen to this challenge, creating versions of 'Jabberwocky' in other languages which are just as playful as the original English. We might even approach the translation of a text like this as an opportunity to have some fun with the translation process: if meaning is not fixed, perhaps as translators this is a chance to focus on other elements of the text, such as rhyme, rhythm, or onomatopoeia. Take a look at the resource we've linked to below for more ideas about translating 'Jabberwocky'. Perhaps even have a go yourself at translating the poem yourself – it could be frabjously good fun!
Click here for the worksheet.