It's a busy time here at Oxford, particularly for Modern Languages! As there are so many fantastic events and activities for young linguistics taking place across the University over the next few weeks, we thought we'd give you a run down of these exciting opportunities and how to get involved. All here in one place, just for you!
So, without further ado…
German Open Day – MS Teams, Saturday 19th February

It's the last chance to sign up to our German Open Day this Saturday, 11am-3pm! This event offers a unique opportunity to gain greater insight into the German degree course here at Oxford, listen to some fascinating taster sessions on topics such as German Film and Reading a Medieval Manuscript, and speak directly to our wonderful academics and current students.

Take a look at the programme and reserve your place here!
Somerville Year 12 Study Days – MS Teams, 22nd-25th February
Somerville's virtual Study Days will feature taster lectures or workshops run by Oxford University academics, which offer a challenging and entertaining introduction to university-level study of various subjects.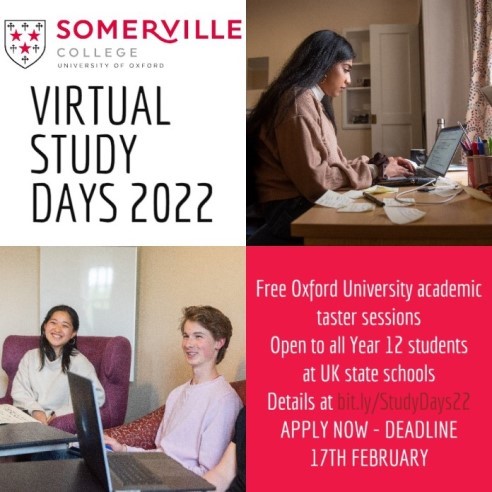 The sessions are open to all Year 12 students at a UK state school who are taking a related subject, and/or are thinking about going on to study a related subject at university. Students will also have the opportunity to hear advice from admissions and outreach staff about applying to Oxford and Cambridge, and to ask the college tutors and current undergraduates questions about their subject of interest.

The Modern Languages session is taking place on Thursday 24th February, 4-6:30pm, on the topic of 'German Poetry Without Words – The Creative Magic of Language'.

Please note: There is no need for any knowledge of German (although helpful); the session is open for everyone interested in a degree in Modern Languages, including joint degrees and/or Modern Languages with a beginner's language.

More information about all of the subject sessions and how to apply for a place can be found here, under the heading 'Year 12 Study Days'.
Spanish & Portuguese Open Day – St Anne's College, Friday 25th February

Our Spanish & Portuguese Open Day is taking place in person at St Anne's College this year, between 10am and 3pm. Just as for German, this event is a great opportunity to learn more about our Spanish and Portuguese degree courses, experience taster sessions, and talk to academics and undergraduates from those subject areas.

Take a look at the programme and reserve your place here!
Modern Languages Study Day – St John's College, Wednesday 9th March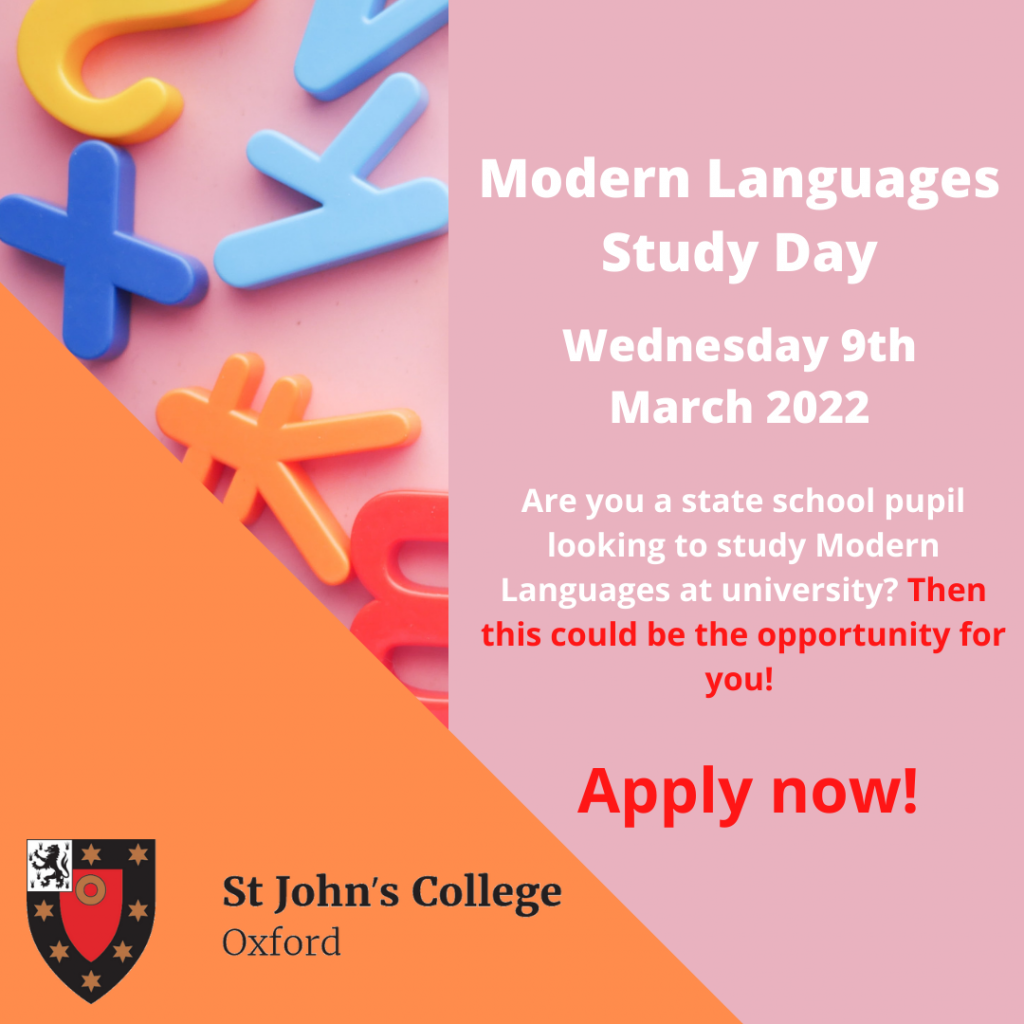 The Modern Languages Study Day at St John's is open to all pupils currently studying at non-selective state schools and sixth-form colleges in the UK, in Year 12 (Lower Sixth) or equivalent, studying a Modern Language at A-level (or equivalent) as well as pupils studying History and English who are interested in starting German from scratch.

This day-long event offers pupils the opportunity to find out about studying Modern Languages at the University of Oxford. Pupils will attend academic taster sessions, receive a tour of St John's College, and find out about the Modern Languages undergraduate degree and application process from tutors and current students.

Further information about eligibility and how to apply can be found here.
The deadline for applications is Monday 21st February at 4pm.
Oxford German Olympiad – Round 2 is now open for entries!
For those who don't know, the Olympiad is a large competition for learners of German from Year 5 upwards. Not only does 2022 mark our 10th Oxford German Olympiad, but this year, the Oxford German Network is also celebrating the 75th anniversary of the Oxford-Bonn Town Twinning and the 80th anniversary of the first four White Rose resistance leaflets.
Therefore, we have two Round 2 tasks to choose from this year: Celebrating 75 Years of British-German Town Twinnings and The White Rose Project: Resistance Leaflets.
Thanks to our generous sponsors White Rose Project, Oxford-Bonn Link and British German Association, there are exciting cash prizes for the winners of each task.
Further details about the tasks can be found here. The deadline for all entries is 10th March 2022.
*********
Hopefully that's enough to keep everyone busy for a while! Do check out the links we've highlighted in this post for more information. See you next week!