Continuing our festive theme from last week, in this week's blog post, Emma (first-year undergraduate at St Hilda's College studying German and Linguistics) tells us all about Oxmas!
Due to the shorter 8-week terms at the University of Oxford, students head home for their winter vacation on the first weekend of December. Although this might be reason to believe that the festive period doesn't overlap with term time, 'Oxmas' is Oxford University's popular take on the festive season. Oxmas allows staff and students to come together and celebrate over the final week or two of Michaelmas (Autumn) term. The events act as a guiding light to help everyone over the finish line of what has, no doubt, been a tiring couple of months.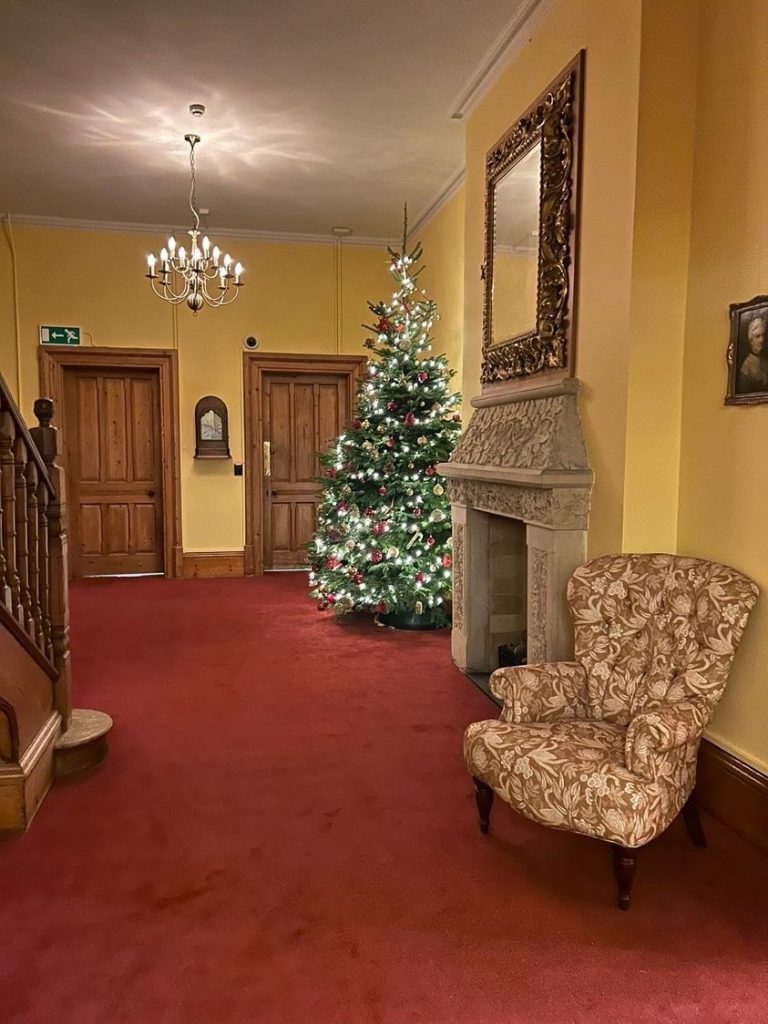 On a surprisingly mild November evening, as 6th week was drawing to a close, staff, students and locals gathered along the High Street in Oxford to watch the Christmas lights get switched on. Twinkling stars, snowflakes and sheets of golden light now illuminated Oxford as darkness began to fall earlier each day. It was at this point in term that wonderfully decorated and beautifully coordinated Christmas trees were starting to pop up, as if by magic, by some of the University's many departments and in all of Oxford's 39 colleges.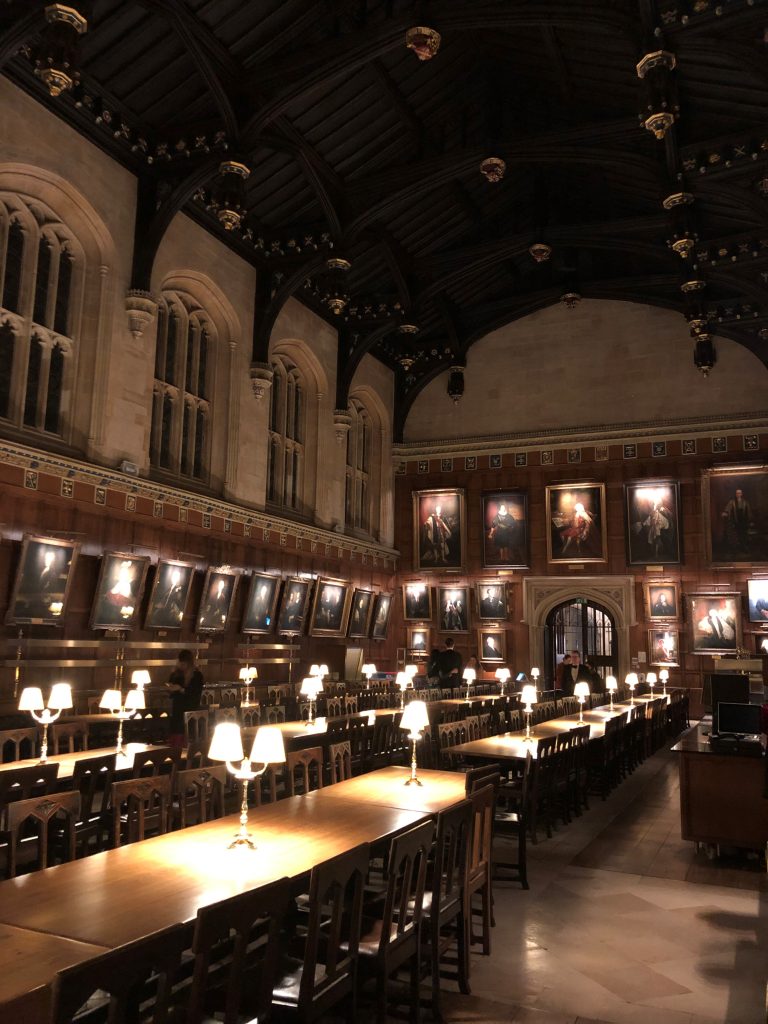 For me, Oxmas truly started on Monday 21st November, when I was lucky enough to go to Oxford University German Society's Christmas Dinner. As a German and Linguistics student, I have been attending German Society events all term, including the college bar crawl, Kaffee und Kuchen and Oxtoberfest – Just to name a few! German society at Oxford is a lively hub of community spirit and cultural celebration, brought to life by native Germans and German enthusiasts alike. The events offer an opportunity for people learning the language to fully immerse themselves in fast-paced German conversation and are a time for native speakers to chat to others about shared experiences of coming to study in the UK. The Christmas Dinner was held in the McKenna Room of Christ Church College and included a festive drinks reception and a delicious three course meal, followed by coffee and chocolate. Weihnachtslieder were interspersed between each course: Everyone joined in with renditions of the classic German carols 'O du fröhliche', 'Stille Nacht, Heilige Nacht' and 'Alle Jahre wieder'. After the meal, we moved across to Christ Church's main dining hall (used as inspiration for The Great Hall in Harry Potter) and ended the evening with some Christmas Poetry, read aloud in German.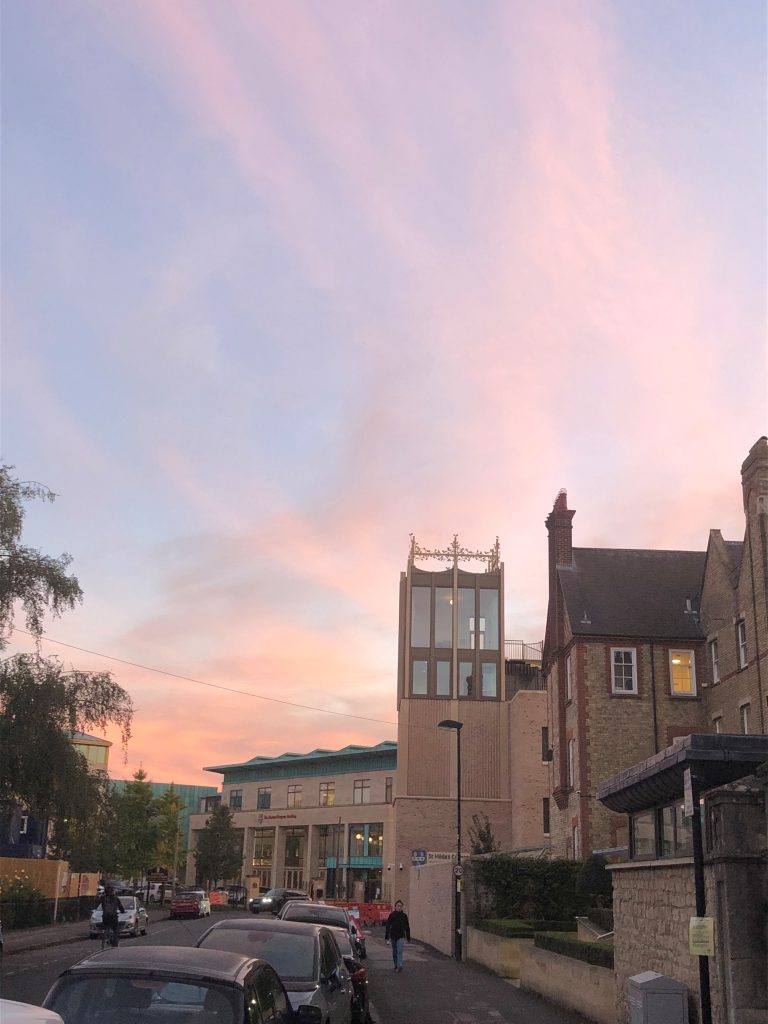 On Friday of that same week, the Linguistics students at my college were invited to a 'Chrismukkah' get-together. This was a chance to celebrate both Hanukkah and Christmas whilst catching up with fellow Linguistics students and tutors about the joys and challenges that Michaelmas term had brought so far. An inviting spread of doughnuts, stollen, nibbles and drinks awaited us in St Hilda's Anniversary Tower, which was lit up by a colourful light display.
The final week of term soon raced around and was jam-packed full of Oxmas spirit. Carols rang out across the city: Choirs performed in the University Church and in each of the colleges. St Hilda's hosted their very own 'Carols on the Stairs', where members of the college came together on a crisp winter's evening to enjoy festive treats while the talented choir put on a brilliant performance. Each college also celebrated by holding an Oxmas-themed formal dinner; students and staff dressed up in formalwear, pulled Christmas crackers and were served tasty food. Tickets for these formals sold out within seconds, which led to festivities being extended to a further Christmas lunch on the final day of term in many of the colleges, such as at St Hilda's. What better way to mark the last day before saying goodbye to your friends for the winter vacation!
Perhaps the strangest aspect of 'Oxmas' is that students arrive home on the first weekend of December brimming with Christmas cheer… Only to find that everyone else has just begun their advent calendars!
*****
We wish all our readers a wonderful break with friends and family over the festive period – see you back here in the new year!