Bookings for our Russian & Slavonic Languages Open Day are now open!
This year, our Russian & Slavonic Languages Open Day will be held on Saturday 4th March, 10.15am-12.30pm at University College, Oxford.
Like our other language-specific open days, this event is smaller and more focused in its scope compared to our wider open day later in the year, allowing more time to explore a subject.
Our Russian & Slavonic Languages Open Day is designed to provide greater insight into our undergraduate degree programmes in Russian and other Slavonic languages such as Czech, Polish and Ukrainian. These languages are all available to study at beginners' level here at Oxford, so the open day presents a great opportunity to find out more about these options and what the courses entail. It's also a lovely excuse to come and visit an Oxford college and the city for the day, meet our current students and academics, and experience a taste of student life.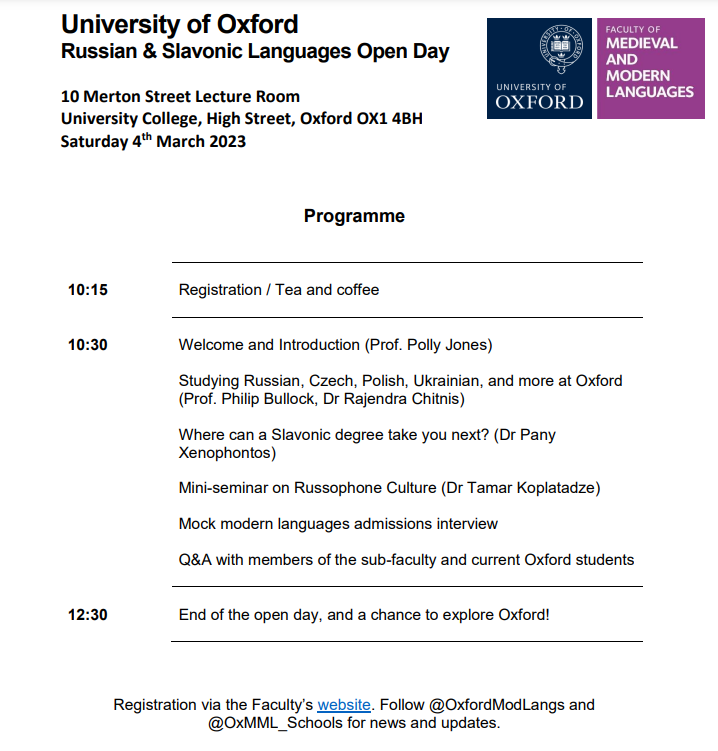 If you are interested in coming along to this event, you can reserve your place on our open days webpage. Please note that bookings are mandatory for this open day and that the deadline for registering is 20th February 2023.
As a reminder, we're running several language-specific open days over the next six weeks… take a look at the table below for further details and sign up to attend here!

We look forward to meeting you at these events soon!