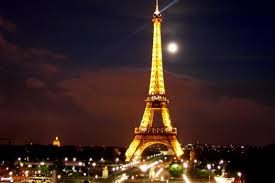 posted by Madeleine Chalmers

I've often been asked why I chose to do a degree in French. My answer is, because it constantly surprises me. The novels, poems, and plays I read for my course at Oxford make me laugh, cry, and think. They might puzzle me occasionally, and always challenge me, but they never leave me indifferent.
Literature, which we read in the original French, forms the backbone of the French course at Oxford. This might sound absolutely terrifying, and not very appealing. Reading in French is a long hard slog, but if you stick with it, it will reward you in ways you couldn't imagine. I read my first French novels at school with a dictionary balanced on my knees, impatiently deciphering every other word. It was tiring, frustrating, and extremely slow, but absolutely addictive. Reading in English, my eye would skip easily across the page. In French, it felt like I was having to fight for every word, and so, strangely, each word really seemed to matter.
I'll always remember the rush of joy and pride I felt when I finished my first French book without a dictionary. All of a sudden, I felt as though I had gained access to a whole passionate countryful of new stories, feelings, and ideas – a country I no longer wanted to leave. Reading is an intensely personal experience. Your mind and your feelings come into contact with the mind and feelings of an author who may have lived and died centuries before you were born. He or she offers you his or her vulnerabilities, sense of humour, and ideas about the world – and they collide with yours. The more you read in French, the more fluent you become and the easier it gets, but I promise that you'll never lose that original thrill of recognition, when, across time and language, an author's message comes through loud and clear, and it feels as though they were speaking only for you.
A French degree is the experience of other voices and other perspectives. As such, it's incredibly varied. 'French literature' at Oxford encompasses everything written in French – from the earliest Medieval writings to books published last year, from mainland France to French-speaking countries across the world. Options in film, philosophy, and art allow you to get to grips with French culture through approaches which you may not have studied before, while translation and linguistics will make you see language in a whole new light.
One of the distinctive features of a language degree is the year abroad (the 3rd year of the 4 year course). For me, it's felt like a chance to bring everything together: the French language and culture I've studied at Oxford, and French language and culture as they are spoken and lived in France today. It's the year when a country that has seemed foreign really becomes home.
I've always been fascinated by France at the turn of the twentieth century – a period when certain districts of Paris became hubs for innovation by bold new artists, writers, and all-round eccentrics. My year abroad has given me the chance to see exhibitions and museums which celebrate these revolutionaries, and I've been able to visit their old haunts and homes. These are moments when the literature, music, art, and atmosphere of a whole time and place slide into focus – and they make all those hours flicking through dictionaries worth the effort. Over the next few months of my year abroad, I'll try to pinpoint some of those moments – the reasons why I love my degree. First stop (in next week's post): Montmartre!
Madeleine Chalmers – I'm a 3rd year French student at St John's, currently on an Erasmus study exchange at the École Normale Supérieure in Paris.