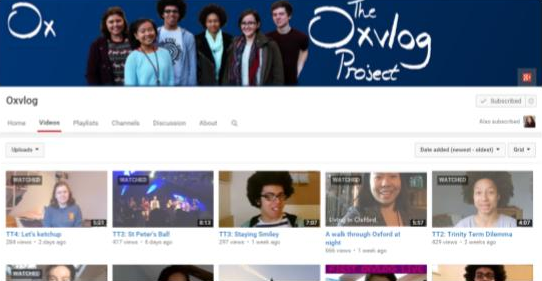 posted by Simon Kemp
If you're thinking about becoming a student at Oxford, one of the best ways to find out what you'll be letting yourself in for is the Oxvlog project on Youtube. It's a student-led project to try and let people know what it's like to apply here and to live and study in Oxford. There are a huge number of videos online, covering all aspects of the Oxford experience, including useful tips for people thinking of applying to study here. They're also good at giving you the complete, unvarnished truth in a way you probably won't find in official brochures and university websites (as you'll quickly see if you click on the videos below…). We'll be linking to vlog posts by modern linguists from time to time. A couple of the modern languages students on Oxvlog are from my own college, Somerville: Miriam studies philosophy and Spanish and Connor studies German. Here's a sample post from each of them:
You can find the Youtube channel here, where you can browse for videos that look interesting, or subscribe to a particular vlogger who's studying on a course that you might be considering.