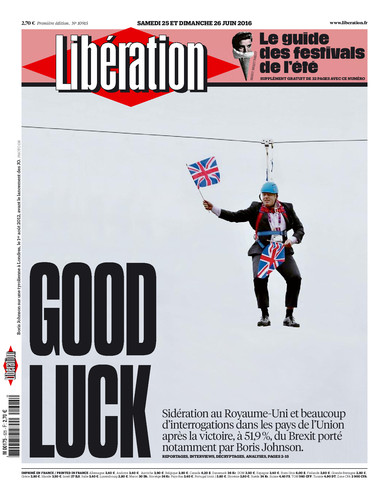 posted by Simon Kemp
There is shock and dismay in Modern Languages at Oxford, you won't be surprised to hear, as there is more widely across the university. I have seen professors in tears in the days following the news that Britain has voted to leave the European Union. What does it mean for Modern Languages as a subject, and for you as someone who may be considering studying a language at university?
In practical terms, there is nothing to worry about any time soon. University courses and UK student funding arrangements remain unchanged. Courses in European languages and cultures at Oxford and elsewhere will continue to enrol students, and students of modern languages will continue to take a year abroad in their degree as before. It's true that some year-abroad options, including many university exchanges and internships, currently take advantage of European Union support through the ERASMUS programme. This support will be in place for at least the next two years, and very possibly longer.  While it's uncertain what arrangements will be in place in the longer term, we can be confident that student exchanges to European universities, work placements in European firms and teaching assistant posts in European schools will continue, regardless. No matter what happens between the UK and the EU, European schools and businesses still consider English-speaking students a valuable resource and are keen to host them, while European universities will still invite British students over for a year in exchange for a year at a British university for one of their own students. All of this was happening long before we were part of the EU and ERASMUS, and will carry on happening if we leave. So if you're concerned about whether you should take a modern languages degree in post-Brexit Britain, then I don't think you need to worry. Nothing fundamental will change where our courses are concerned in the next few years, nor is there likely to be a major change in the careers and life-opportunities they offer.
But something has changed.
Britain is pulling out of the European Union. Some people are afraid that, in the years to come, Britain will be turning away from the continent, turning inwards on itself. It may be that, decades from now, British people will have fewer opportunities to live and work in other European countries, fewer occasions to experience life among the French, Germans, Spanish or Italians. Less chance to make friends with our neighbours. The United Kingdom has reached a fork in the road, and the path we've chosen seems to be leading us away from the peaceful, prosperous and vibrant community of cultural and economic exchange that we've been part of for as long as most of us can remember. Nobody can really predict with any confidence what lies ahead of us as the century unfolds.
We know that Britain's young people — the 18-24-year-olds who were eligible to vote in the referendum and the sixteen- and seventeen-year-olds who were not — are the people most likely to see the worth of the European Union, and the people most keen to see us remain a part of it. Perhaps you're one of these people, and you've been looking forward to studying European languages and cultures at university, spending time in Europe on a year abroad, and then going on to a career that makes use of your skills.  Perhaps what happened last week has left you feeling bewildered and discouraged.
If that sounds like you, I urge you to take heart. Britain's future relationship with Europe is uncertain, and it will be up to your generation to shape it. Where we go from here will be largely up to you. It's never been more important for open-minded, outward-looking people to get involved. Learn to communicate in another European language. Get to know another European culture. Find out for yourself who our fellow Europeans really are. There are many big challenges ahead and many more difficult decisions to be taken as we continue to work out our new place in the world. If you're going to rise to the occasion, you'll need to be prepared.