This post was written by Khalid Lyamlahy, a doctoral student at St Anne's College. Khalid's research looks at Moroccan identity in a post-colonial context, examining the concepts of nostalgia and revolt in the works of three contemporary Moroccan Francophone writers : Mohammed Khaïr-Eddine (1941-1995), Abdelkebir Khatibi (1938-2009) and Abdellatif Laâbi (born 1942).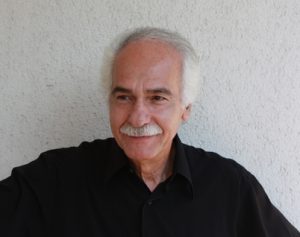 On February 20-21 2018, the University of Oxford hosted Moroccan poet Abdellatif Laâbi for a two-day event, supported by The Ertegun Graduate Scholarship Programme in the Humanities and the Maison Française d'Oxford (the French cultural centre in Oxford). The event provided a unique opportunity to discuss and engage with the work of one of the major voices of Francophone poetry.
Born in Fez in 1942 under the French protectorate, Laâbi was only fourteen when Morocco gained its independence in 1956. Laâbi taught French in Rabat and cofounded in 1966 with a group of Moroccan poets and artists the journal Souffles-Anfas, one of the most influential platforms for cultural and political production in postcolonial Africa and the Global South. A political activist in the Moroccan Left, Laâbi was arrested in 1972 and spent more than eight years in prison. After an international campaign for his release, he left Morocco and went into exile in France. Laâbi has published a wide range of works including poetry collections, novels, essays, autobiographies, children books, and translations, as well as a series of articles and interviews. In 2009 he was awarded the prestigious Goncourt Prize of Poetry, and in 2011, the Grand Prix de la Francophonie de l'Académie Française. His works have been translated into English, Spanish, German, and Italian, among other languages.
The first day of the event was introduced by Jane Hiddleston who provided a synthetic introduction of Laâbi's trajectory and literary production. The first panel, chaired by Toby Garfitt, included talks by Andy Stafford and Khalid Lyamlahy on the motif of light in Laâbi's work. In two equally enthusiastic presentations, Stafford discussed the at once ambivalent and rich meaning of a series of occurrences of the word "soleil" ("sun" in French) in Laâbi's early poetry, while Lyamlahy reflected on the presence and absence of light in Laâbi's writing, demonstrating how the poet recovers, protects, and brings light to his readership. For the Moroccan poet who has long lived behind bars, light is a source of hope, inspiration, and generosity. As he writes in one of his prison poems from 1978:
Bonjour soleil de mon pays
qu'il fait bon vivre aujourd'hui
que de lumière
que de lumière autour de moi
Bonjour terrain vague de ma promenade
tu m'es devenu familier
(Good morning sun of my land
how good it feels to be alive today
so much light
so much light around me
Good morning empty exercise yard
you have become familiar to me)
This extract is written as a dialogue between the jailed poet and the Moroccan sun. By repeating the word "lumière" ("light" in French), Laâbi celebrates life and creates a sense of freedom that resists incarceration and confinement.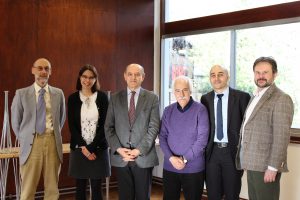 The second panel took the form of a conversation between Lyamlahy and Laâbi's wife Jocelyne who is also a writer. Jocelyne has published a historical novel, an autobiography in which she recounts her life in Morocco and struggle for Abdellatif's release, in addition to several collections of Moroccan tales which she gathered and translated into French. During the conversation, Jocelyne explained how she came to writing, commenting on her interest in Moroccan popular culture and, more broadly, the history of the Arab world. She also read some excerpts from the new edition of her Moroccan tales, Avec la rivière mon conte s'en est allé (Al Manar, 2018) which means "With the river my tale went away", a closing formula used by Moroccan storytellers at the end of their tales.
In the final panel, moderated by Catriona Seth, Abdellatif Laâbi discussed the challenges of being a writer "from the periphery" and how this position shapes his approach to poetic creation and language. Significantly, Laâbi described his literary career as a "miracle", a word that refers to both his background as the son of a Moroccan craftsman whom nothing predestined to become a writer, and to the sense of wonder and sensitivity that characterizes his poetic work.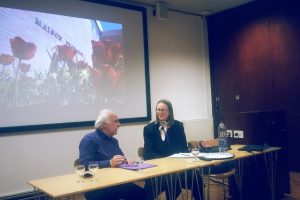 The second day of the event opened with a discussion on language and politics in North Africa. James McDougall and Kaoutar Ghilani spoke about the evolution of language politics in the Maghreb, and the effect of colonialism and nationalism on linguistic dynamics in the region. They provided an instructive and complementary overview of the Arabisation policy and the teaching of foreign languages in both Algeria and Morocco, while Laâbi reaffirmed the necessity of recognising local dialects and promoting linguistic diversity in the region.
After this, Laâbi and his translator André Naffis-Sahely discussed the practice and values of translation. Drawing on his experience as a translator of Palestinian Arabic poetry into French, Laâbi defined translation as an act of love, dialogue, and deep understanding of the original text. Similarly, Naffis-Sahely drew on the legacy of the late British poet and translator Sarah Maguire to argue that translating consists in taking not only an aesthetic but also an ethical position. The discussion was then followed by a bilingual reading of Laâbi's poetry in both French (by Laâbi) and English (by Naffis-Sahely).
This two-day event was a unique opportunity to engage with the deeply humanist and thought-provoking voice of Abdellatif Laâbi. Subtle and powerful, sensuous and rebellious, his poetry is not only a record of a life of commitment and dignity, but also a call to remain vigilant and reinvigorate the dynamics of resistance in an age of violence and intolerance. Laâbi reminds us that writing is the most valuable act of sharing. In his words,
Ton écriture est ton seul bien, celui que tu n'as jamais monnayé et que personne n'a jamais pu acheter. Et ne crois pas que tu en sois propriétaire. Ce bien n'est tien que dans la mesure où tu le distribues chaque jour, chaque nuit, surtout quand tu traverses les périls.
(Your writing is your only asset, the one that you have never sold and that no one has ever been able to buy. And do not imagine that you are its owner. This asset is yours only so long as you share it every day, every night, and especially when you are crossing perilous territory)