It's that time of year when we are looking forward to receiving lots of applications from prospective students so we thought it would be useful to include an Oxford admissions checklist on this week's blog. Year 13 students: if you are thinking of applying make sure you have prepared for all the points below. Year 12 students: it's never too soon to start thinking about your applications for next year.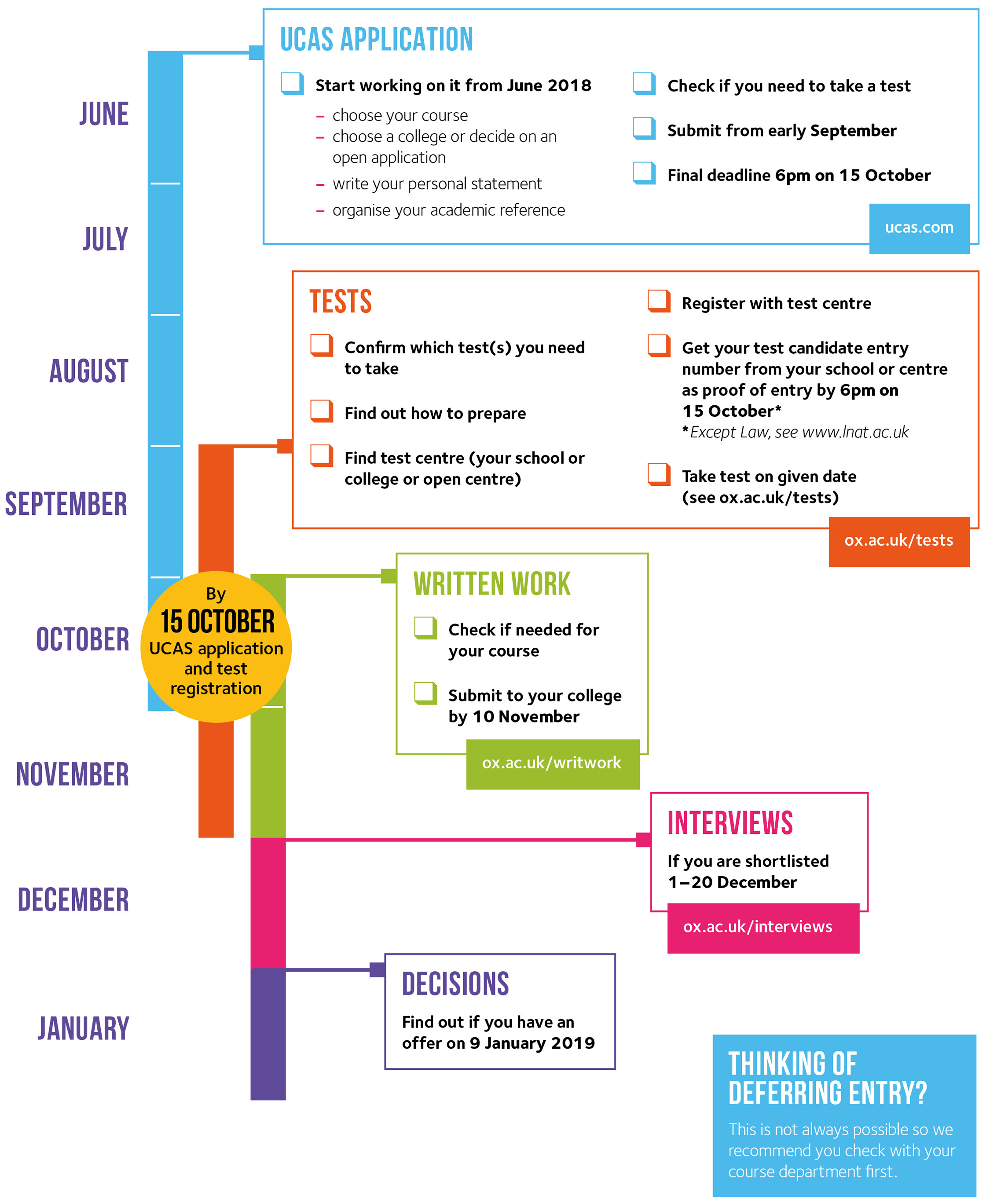 Step 1: UCAS application – remember that the deadline for Oxford is earlier than the usual UCAS deadline. Submit your application by 6pm on 15 October 2018.
You've probably been hard at work on your UCAS application for a little while now and will know that it consists of: your actual grades (e.g. GCSE), your predicted grades (A Level or equivalent), your personal statement, and a reference from your teacher. Here are some key things to remember about the personal statement…
You'll submit the same personal statement for all the universities you apply to. Therefore, focus on the course/ subject, not the universities.
Show us your academic ability and potential, and your commitment to the subject. It's not enough just to say that you have a passion for something: you need to show how you have engaged with your subject, above and beyond schoolwork.
Only mention your extracurricular activities if they are relevant to the subject for which you are applying. We want to see how your interests beyond school have helped to stretch you academically or motivate you to pursue your subject.
Be honest and be yourself – we're interested in you as an individual. Also remember that this is not the time for false modesty – feel free to sell yourself!
Don't list qualifications like your GCSE grades or anything else that's covered elsewhere on the application.
Be sure to re-read your personal statement before an interview – the tutors may ask you to talk about things you've mentioned.
Step 2: Admissions Tests. The deadline to register for a test is also 6pm on 15 October. Your schools or test centre must register you. Ask your school or test centre for your candidate number now so that you know you have been registered.
You will sit the test in your school or test centre on Wednesday 31 October.
For Modern Languages, you must take a test in each language you apply for which you are studying at A Level or equivalent. For example, if you are applying for French and German and are sitting an A Level in both of these languages, you will take the tests in French and German. If, on the other hand, you are applying for French and Italian 'ab initio' (from scratch), and you will only have the A Level in French, you do not need to take the Italian test.
For languages for which you are applying post-A Level, the test is a grammar test, so it's useful to start revising things like tenses, prepositions, subjunctives, adjectival agreement etc. The test is not designed to be a vocabulary test and there are likely to be words you don't know: do not worry about this. We are not expecting a perfect score – we just want to get a sense of how solid a grammatical foundation you have in your language at the point of application.
If you are applying for a language from scratch you will need to take the Language Aptitude Test (LAT). This takes a made-up language and asks you to spot patterns and rules within that language, based on some sample sentences. We are interested in your instinct for language learning and your ability to spot potential grammatical structures based on the internal logic of a language. There are examples of this and other admissions tests online – have a practice in timed conditions so you get used to the exercises.
If you are applying for a 'joint schools' degree (a language in combination with another subject: English, History, Classics, Middle Eastern Languages, Linguistics, Philosophy) you may need to take additional tests in those subjects. Check here for details.
Step 3: Written Work. The college considering your application will contact you about submitting written work. The deadline for submission is 10 November. You will need to complete a written work cover sheet for each piece of work that you submit.
For Modern Languages, you will need to submit one piece in each language you intend to study, and in which you will have A Level standard (or equivalent) before university.
AND one piece in English (e.g. an essay on literature, history…)
If you are applying for a joint schools degree you will need to check what schoolwork is required for those subjects.
The work you send in should be your original school or college work, marked by a teacher, and not re-written or corrected in any way. It may be typed or handwritten – as long as it is legible – and photocopies are acceptable.
We would expect the piece in English to be no more than 2,000 words.
The piece in the Modern language can be much shorter: we would recommend around 300-500 words.
Step 4: Interviews. These take place in early December and, for many applicants, are the scariest part of the process. We'll do another blog post in the coming weeks about interviews so stay tuned…
Step 5: Decisions! You will be told if you have an offer on 9 January 2019.
Best of luck to everyone who is applying. Remember, you can always ask us any questions you might have about admissions by emailing schools.liaison@mod-langs.ox.ac.uk