Alannah Burns, a fourth-year Philosophy & German student at Lady Margaret Hall, loved teaching English at a secondary school in Berlin on her Year Abroad. Here she tells us why.
'Too many choices of what to do on a Year Abroad?! But one obviously stands out…'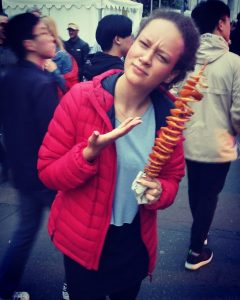 Nine months. One city. One school. One job. One language.
Today, it's the game 'werewolves' in English for Grade 8 at 12pm.
Tomorrow, it's one-to-one English speaking exam practice with Grade 10 at 2pm – this will be the first time they are learning what the exam is really like.
This morning it was going through the answers to the English class test from last week with Grade 8 step-by-step.
Tonight I'll have to look up the lyrics to a Disney song and create a gap-fill exercise from it to help Grade 7 students practise listening to and understanding American accents.
For nine months I was paid to assist Grade 7, 8 and 10 English lessons at a 'community school' [Gemeinschaftsschule] in Berlin. I worked at the school for just over 12 hours a week (that's right! Only 12 hours a week minimum and 20 hours a week maximum are required of you!). I did this as part of the British Council's English Language Assistant programme. This is a very popular choice for those doing a Year Abroad, and I'm here to show you why.
I had never been to Berlin before I started my Year Abroad. I lived in nine different flats in eight (very different) areas of Berlin, for periods ranging from only five days, to four months straight (try doing the maths on that one!). I saw so much of the city this way, and experienced so many different kinds of city environments. I was paid 850 Euros a month for the teaching and (amazingly) never paid a cent more than 500 Euros for an entire flat to myself in Berlin with all bills included… Student life certainly does not get better than that! Teachers I worked with let me stay with them at the start of my time in Berlin, and helped me open a bank account, register my addresses, and find new places to live. The English Language Assistant placement with the British Council is also part of the Erasmus+ Scheme (which most universities are signed up to), meaning that you have access to extra funding and can continue to receive your maintenance loan from Student Finance as usual! I even still received funding, as I do every year, from Oxford University's Moritz-Heyman Scholarship which is for students from backgrounds with a low household income. Put all these things together and see just how quickly my financial worries about a year of moving to a new country by myself were extinguished!
'Living abroad for a year?! But how will I finance this?! How will I make friends?!'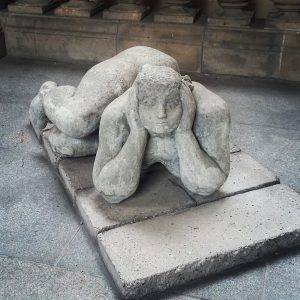 Another scary part of spending a year in a new place and new country is how to get to know new people. The British Council run training sessions before your placement which are usually (but not always) in the country you will be spending your Year Abroad. This training lasts for a few days (for which they usually provide you with accommodation etc.) and during it you work closely with the other people from different universities who are also going to be teaching English at schools in the same city/region as you. This means that you know a circle of interesting people straight away who will be doing the same job, and build good friendships with them early-on while learning how to prepare lessons, work with teachers, teach different age groups etc.
Now to the job itself. The idea behind the British Council's English Language Assistants programme is to foster an environment of joyful learning and incredible cultural exchange abroad, with a native English speaker supporting and encouraging people abroad to enjoy learning English and about English-speaking countries.
My experience was pretty unique: I never prepared my own off-curriculum lessons on British culture (or indeed anything), and never spoke German to the students… Here's why: Most students at the school were from migrant or economically-disadvantaged backgrounds, with many students having diagnosed behavioural problems or learning difficulties. Some students had weak levels of German, let alone English. Not knowing I can speak German thus encouraged them to practice English with me – great for the students, but not for my spoken German… We followed the curriculum strictly as the students' English levels generally were too weak to diverge from the textbook with exams/class tests always looming. 

'You don't have to be crazy to work here. But it helps tremendously!'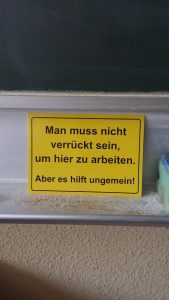 As an enthusiastic native English speaker, I was told I had become a very valuable asset to this school. I led whole lessons, supported students in one-to-one speaking sessions, ran lunchtime English clubs, explained grammar, produced my own worksheets, and marked tests and homework. This experience was perfect for me as I hope to become an English teacher abroad in future. but my experience was certainly not typical! I know some people who worked at schools in Spain which asked them to teach science or other subjects in English, and others in different countries who were always preparing their own English lessons about British culture or their own background. The teaching experience is what you make of it and what you want it to be. There is always so much scope to talk with your school about what they want to get out of having a lively native English speaker in their classrooms, and what you want to learn from the experience and gain skills in. Every key skill you could ever need to show-off on your CV (such as leadership, teamwork, confidence, independence, reliability, punctuality, commitment, etc.) is what you can gain from this Year Abroad placement with the British Council. I cannot recommend it enough!
After leaving Berlin I gained a TEFL qualification through doing around 250 hours of volunteer English teaching to Polish children/teenagers in Warsaw and London, and German business professionals in Frankfurt. The English Language Assistant programme with the British Council certainly prepared me well for this.
You can find out more about the British Council programme here.