Happy New Year from Adventures on the Bookshelf! To kick off the blog in 2019, we're diving in at the deep end and bringing you news of our German open day. If you're thinking about applying to study German as an undergraduate at Oxford, this is an excellent opportunity to meet some of the tutors, try out a couple of academic taster sessions which will give you a flavour of what it's like to study German, and take a look around Oxford. See below for the full details and programme. If you would like to attend, please book a place via our website.
What? The 2019 German Open Day, designed to showcase the Oxford German course and answer any questions you might have.
Who? If you study German at school and would like to continue it at university, this is your chance to see what degree-level German is like, and how we go about teaching it. But equally, even if you do not already study German but think it could be something you'd like to pick up at university, this event is a chance for you to ask any questions about studying German from scratch, and see whether it's for you. In short, all budding Germanists are welcome, regardless of whether you have already studied German in the past.
Where? The event will start and finish at the Taylor Institution on St Giles, and the middle portion of the day will be spent at Worcester College.
When? Saturday 23 February 2019, 10:30am – 3pm
How? Book a place by registering on our website and signing up for the event.
Here's the programme…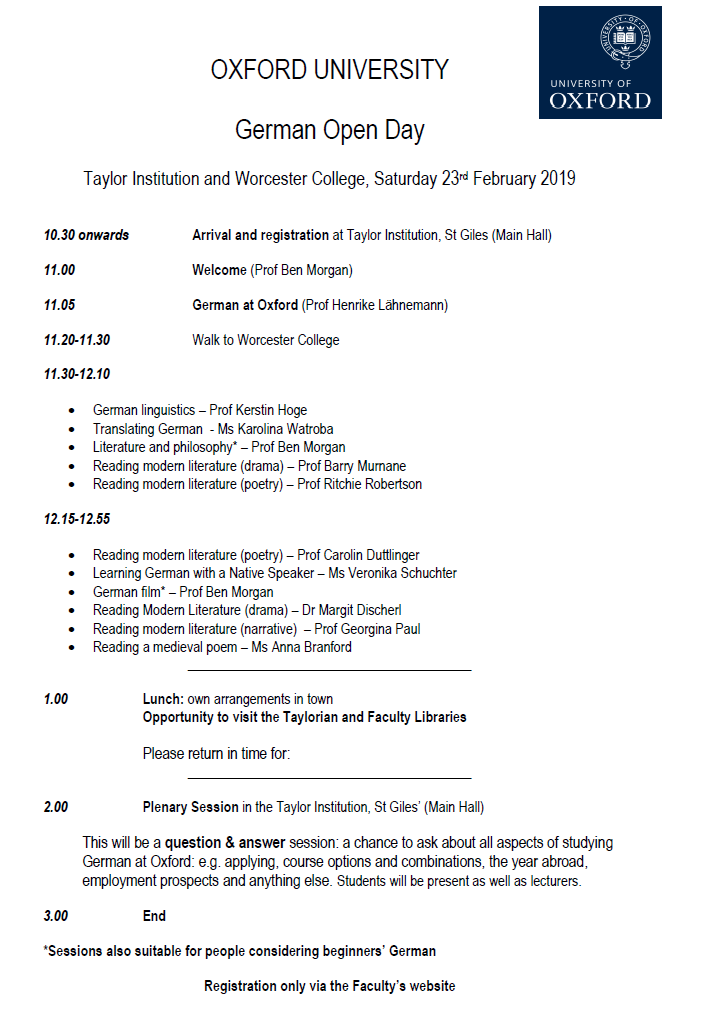 Keep your eyes peeled for our other open days coming up later in the term.