This post was written by Charlotte, who studies French at Worcester College. Here, Charlotte tells us about her year abroad in France.
2018 was an exciting time to be in France for a year abroad. Over the summer temperatures rose in France with the thrill of the World Cup. Bars were brimming with enthused fans, roars matched every goal and with each win the streets became crowded with waving flags, trumpets and cheers of "Allez les bleus!". In Montpellier, French football fans climbed on historic monuments and beeped car horns throughout the night. When I was caught watching a football match on my computer at work my boss sat down and joined!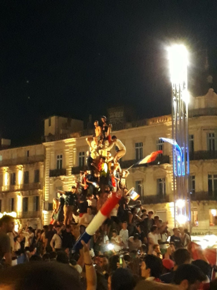 In Montpellier there was a heatwave, or canicule, that summer so I spent my time between the beach and a natural lake, both of which were easy to get to by the tram system running through the city. It was warm enough to swim in the ocean up until the end of September! Every Friday in August there was a wine festival Les Estivales with live music and a range of food stands, every Wednesday there was a firework display at the beach, and every evening in the park Peyrou students relaxed in the cool evening, sometimes playing sport or dancing to music.
Autumn was an important time for me as I was working in a yacht brokerage, and autumn is the season of boat shows so I got to work on the marketing of several yachts across various regions in the South of France. September is also the season of Les Voiles de St-Tropez, a sailboat race in St.Tropez which attracts yachting teams from across the world to compete in.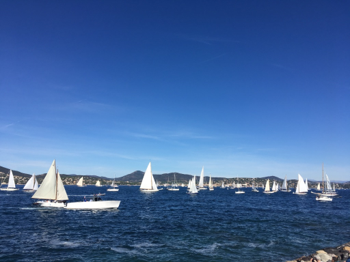 Winter in Montpellier is very special. The Christmas markets opened at the beginning of December, and their opening was celebrated by a huge light show which saw historic buildings lit up with dazzling light projections.
Winter season also coincided with the beginning of the gilets jaunes movement in France, an important event which saw the President, Emmanuel Macron, cave to the demands of the protestors. A year later they are still to be seen on the streets of Paris. At a practical level, it meant that there was less food in the supermarket and it was more difficult to drive to places. Some students I met there got involved with the protests, it was a chance to engage in French social and political issues beyond reading about them in Le Monde.
Years abroad are not a holiday – I was working a full-time job! – but they are an opportunity to make the most of local events and culture which is not always possible in Oxford with the workload and tight deadlines. Towns and regions have different personalities throughout the year, and living abroad allows you to see and experience them all, getting to engage with language and culture beyond the textbook.