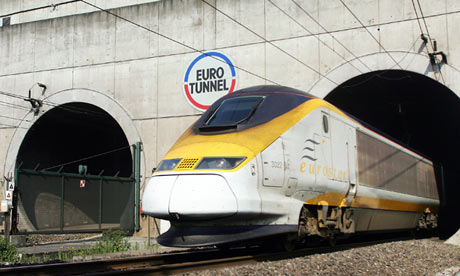 posted by Simon Kemp
It's always interesting to see how news in your country gets reported abroad, and it's particularly interesting when France and Britain are both reporting on a story that concerns both of us. The refugee and migrant crisis at the Eurotunnel in Calais is one such story. It's had a lot of coverage over here and a fair amount in France too, although the French reports have a rather different tone to them. Slate.fr recently published an article on the whole affair. You can find it here. (Watch out, though! They've given it a rather, erm, eye-catching headline in English…) After some remarks on British attitudes to the tunnel, and to foreigners in general, the author gets on to the current situation. Here's an extract, with some of the trickier vocabulary picked out in bold and listed under each paragraph:
(UPDATE: The article pre-dates the death of Aylan Kurdi, the photos of whom on a Turkish beach have so dramatically changed the debate in recent days. Here is another French article on Calais published since.)
Chaque semaine, des milliers de migrants tentent de traverser la Manche par le tunnel qui a fini par être ouvert en 1994. Ces aspirants voyageurs sautent par-dessus les tourniquets—ou, plus précisément, franchissent les immenses grillages proches de l'entrée du tunnel aux environs de Calais, en France. Dans des scènes dignes du pire cauchemar de John Bull, réfugiés, demandeurs d'asile et migrants économiques essaient désespérément de sauter à bord de camions à destination de la Grande-Bretagne et, espèrent-ils, d'une vie meilleure (en clients avertis, les migrants savent que la vie, en tout cas lorsqu'elle est évaluée en termes d'emploi et de statistiques économiques, est plus douce dans le pays de Shakespeare que dans celui de Racine).
sauter par-dessus les tourniquets: jump the barriers
digne de: worthy of
le pire cauchemar: worst nightmare
le demandeur d'asile: asylum seeker
le client averti: smart customer
Comme il était à prévoir, les événements de Calais ont déclenché les mêmes peurs incontrôlées et le même langage désinhibé qui bardait les premiers débats britanniques autour du tunnel. Fin juillet, dans un article orné de photos de gendarmes français échouant à regrouper des migrants ou se contentant de les regarder courir sous leur nez, le Sun a braillé «Les Frenchies sont atroces!» Pour ne pas être en reste, le Daily Mail a claironné que le cri de ralliement des migrants était: «C'est l'Angleterre ou la mort», et le journal en a profité pour exiger de savoir quand le Premier ministre David Cameron entendait «agir». Les tabloïds, jouant sur les souvenirs de 1940, ont raillé la lâcheté de la réaction française devant la vague de migrants tentant d'entrer dans le tunnel et appelé le gouvernement britannique à faire intervenir l'armée.
Comme il était à prévoir: As might have been expected
déclencher: trigger, set off
désinhibé: uninhibited
échouer à faire qq ch: fail to do something
Pour ne pas être en reste: So as not to be left out
entendre faire: intend to do
railler: mock
Cameron n'a pas encore mobilisé l'armée mais en revanche il n'a pas manqué de faire appel à ses réserves rhétoriques. Lors d'une visite officielle au Vietnam, il a utilisé le mot«nuées» pour décrire les milliers de migrants désespérés qui tentent de forcer le passage dans le tunnel. Plus souvent utilisé pour qualifier des insectes que des êtres humains, ce mot a probablement eu plus de succès auprès des lecteurs du Mail que d'organismes comme la filiale britannique de Médecins du Monde, dont le directeur a observé que ce que Cameron appelait des «nuées» était en réalité «des gens ordinaires—des mères, des pères, des filles et des fils—qui vivaient dans les conditions les plus atroces qui soient et que personne ne devrait avoir à supporter.»
en revanche: on the other hand
faire appel à: call up, call upon (i.e. Cameron isn't mobilizing the army, but he's calling up his reserves of rhetoric)
la nuée: swarm
un organisme: (here) organization
la filiale: branch
les plus atroces qui soient: the worst possible (literally, 'the most atrocious that might be)
Se déclarant «très préoccupé» par la situation à Calais et plus particulièrement par les kilomètres de camions attendant sur les autoroutes anglaises de pouvoir entrer dans le tunnel, poussé à la fois par les problèmes de sécurité qui se posent dans le tunnel et par les équipes en grèves dans les ferries français, Cameron semblait également soucieux de la réaction de la France. Il a tapé sur les doigts des Français, évoqué les sommes—plus de 4,7 millions d'euros— déjà dépensées par son gouvernement pour renforcer le réseau de sécurité autour de l'entrée du tunnel côté français, et promis d'affecter 10 millions d'euros supplémentaires à la sécurité du tunnel.
en grève: on strike
soucieux de: concerned about
taper sur les doigts de qqn: rap someone on the knuckles
le réseau de sécurité: security cordon
affecter: (here) allocate