Posted By Rowan Lyster, in her third year at Somerville College reading French and Linguistics, and currently on her year abroad on a university exchange in Montpellier, France. This is an extract from rowanlyster.blogspot.fr
This is a brief guide to some new concepts and words I've been introduced to during my year abroad in France. I can't guarantee the accuracy of my definitions; Google translate may be useful if you want to actually learn new words…
La grève: A spontaneous gathering where hundreds of students come together in peace and harmony to make avant-garde sound art using klaxons, megaphones and fire alarms. And occasionally bongos. Sometimes culminates in a fun-filled parade along the tramway, encouraging the bemused citizens of Montpellier to take life at a slower pace by stopping the entire transport system.
Erasmus: A magic word which gets you into classes you shouldn't be going to, and out of work you should be doing. To be applied freely in all circumstances, especially in conjunction with a look of confusion and sadness.
Dessin d'Observation: An 'art' class I attend which, going by the lessons so far, consists of tracing and colouring. Lessons incorporate an element of orienteering, due to the fact that the classroom changes most weeks.
Emploi du Temps (Timetable): An elusive, possibly mythical creature; sometimes you think you've got it pinned down but it inevitably uses the power of shapeshifting to escape your clutches. Not to be trusted under any circumstances.
8h30: A time with which I was not previously familiar, but at which I now have two 3-hour classes. Boo.

Certificat Médical: A document which is inexplicably required if you want to do any form of organised sport, up to and including 'relaxing stretches'. I mean, seriously? Each sport must be individually specified on the certificate in order for it to be valid. At my doctor's appointment to get this, I was asked about my entire medical history (including frankly VERY personal information), told I should have had every vaccination under the sun, and warned about the dangers of going out late at night. I was also asked to do 30 squats with my arms stuck out, before having literally every inch of my torso listened to with a stethoscope.
La Météo: A wildly inaccurate source of information about the weather. The only guarantee is that it will in no way correspond to what you can see out of the window. Fortunately it is usually pessimistic; last weekend's "storms" were actually a few minutes of light drizzle. Speaking of which…

La Pluie: A distant memory.

L'Hiver: The time of year where you occasionally have to wear jeans and maybe even a jacket. Extremely distressing for those who grew up in the south of French.

Being 'Englished': When you speak to someone in your best French and they insist on replying in English, despite your obvious exasperation and refusal to go along with it. Happens less and less as time goes on, which is gratifying.

Cousine/Cuisine: Two words I can't seem to distinguish in French. This is a surprisingly big problem as my cousin is also here; often results in people wondering why I spend so much time with my kitchen.
Email: Apparently not really a thing in France, given the number of replies I have received to the hundreds of emails I've sent. May try carrier pigeon if this continues.

Dimanche: A weekly precursor of the apocalypse, during which everything closes and the streets become eerily empty. The only sound is the slamming of shutters and the rumbling of my tummy as I realise that I have, once again, forgotten to buy any food.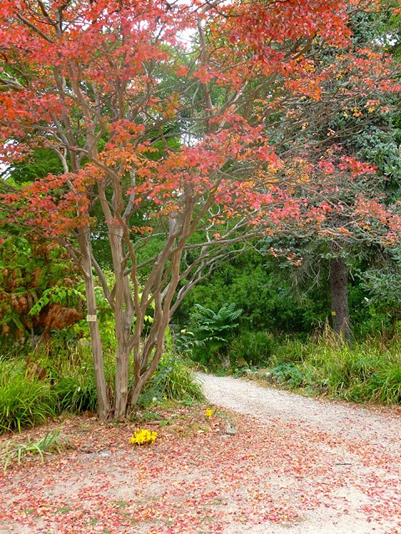 Apologies for the lack of pictures in this post, I'm feeling lazy . Here is an autumnal tree from the Botanical Gardens (or 'Garden of Plants' as they call it here) to make up for it.
 (Rowan's previous post on Montpellier student life is here.)