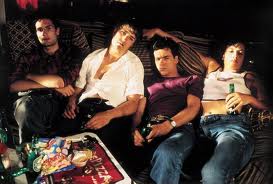 As in the previous few years, the Oxford University Faculty of Medieval and Modern Languages is organising a French Film Competition, run with the help and generosity of Routes into Languages and the Sir Robert Taylor Society.
The Competition has been a really successful and fun way of getting young people interested in France and French culture. And this year we have opened it up to younger students: all UK students of secondary-school age – from years 7 to 13 – can take part. The challenge of the competition is to re-write the ending of a film in no more than 1500 words.
The films for this year –  Le Hérisson (The Hedgehog) directed by Mona Achache (2009, for Years 7-11) and L'Auberge Espagnole (Pot Luck), directed by Cédric Klapisch (2002, for years 12-13) have been chosen because they talk about reaching out to strange or foreign people. The first film sees a young girl forming an unlikely friendship with a prickly, hedgehog-like caretaker; in the second, a young Frenchman flatshares with eccentric students from different countries on his Erasmus Year Abroad – a situation many language undergraduates have to deal with!
Judging the competition is often a lot of fun and we are always impressed by the imagination and wit of the entries. There are no restrictions as to the form the entry might take: screen-play, play-script, prose, prose with illustrations… and this year, you can even upload a YouTube video or audio file! Entries should be submitted by email to french.essay@mod-langs.ox.ac.uk by noon on Monday 31 March 2014.
A first prize of £100 will be awarded to the winning student in each age group, with runner-up prizes of £25. For further details about entering the competition (including the points in each film where we'd like you to take up the story), please see the link below, which offers more details about how to enter. It's great fun and an excellent exercise in creativity! So please do enter!

http://www.mod-langs.ox.ac.uk/film_comp_2014
posted by Will McKenzie