Today's post was written by Frank Egerton, who is a writer and the Operations Manager of the Reader Services Team at the Taylor Institution Library. The Taylor Institution (affectionately known as 'The Taylorian' by our students and staff) is the University's centre for the study of Modern European languages and literatures, other than English. As well as its West and East European collections, the library houses collections for Linguistics, Film Studies, and Women's Studies. Here, Frank tells us more about this incredible resource.
I started work at the Taylor Institution Library on 5th January 2009. As I approach the building ten years later and look up at its classical columns, its statuary and its almost unimaginably massive windows, I continue to think (how could I not?), How lucky I am to work here.
Yet I'm also aware that all that architecture might seem unreal – think Downton Abbey or National Trust – and at worst, forbidding.
It is my job and that of my Reader Services team to make the experience of the building and its amazing collections welcoming, friendly and fulfilling.
More on the present later, but first, history.
It's a common misconception that the Taylor Institution is part of the Ashmolean Museum. Well it is, on the outside, but inside, the library is totally separate. In the middle of the nineteenth century, the University had two bequests, one for an art gallery, the other for a centre dedicated to the study of modern European languages. The solution was to run an architectural competition for the best design of a single building that accommodated both spaces. This was won by CR Cockerell and his building was completed in 1844.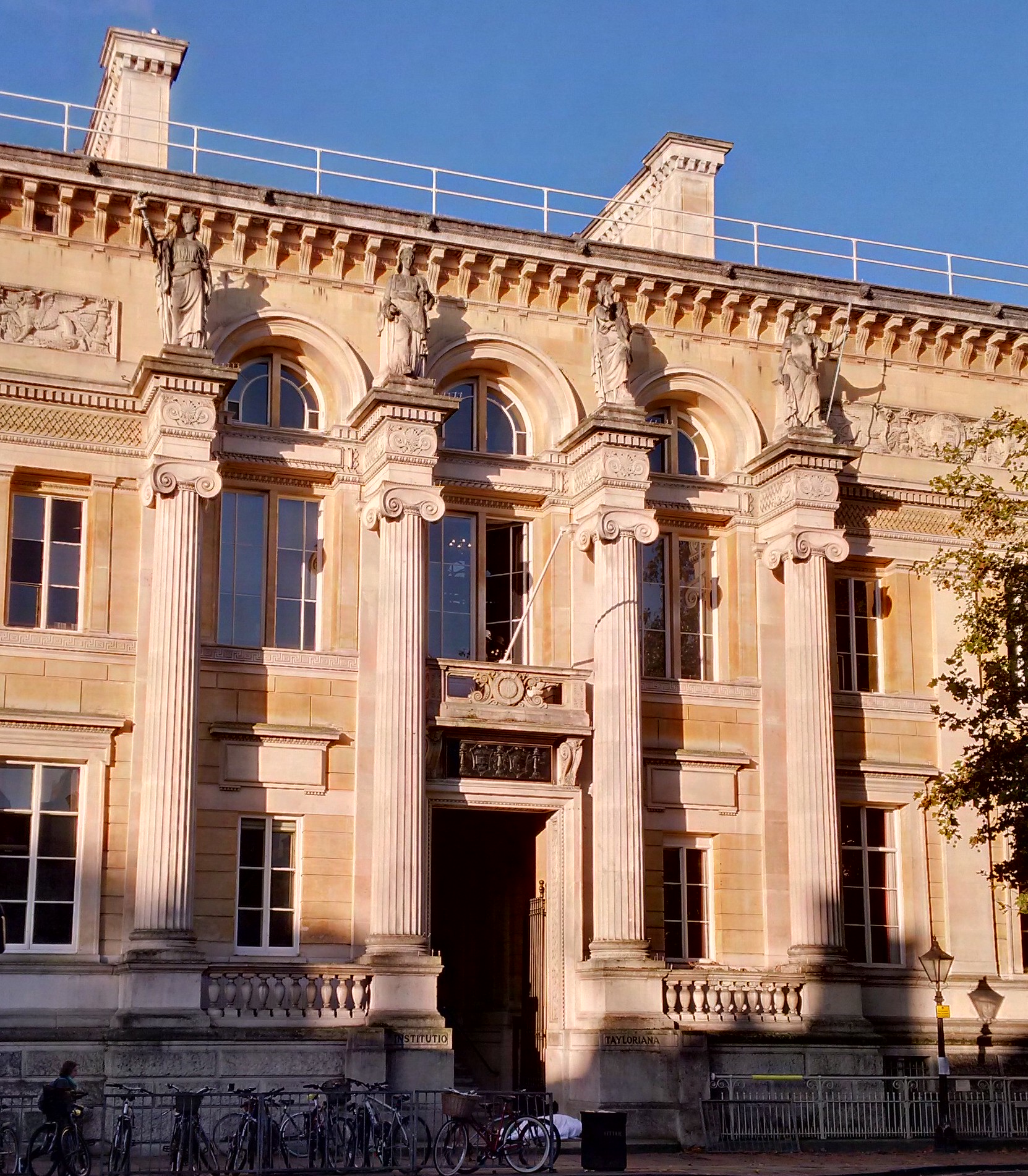 The money for the institution and its library had come from another architect, Sir Robert Taylor, who had travelled in Europe and who had amassed a magnificent collection of architectural books written in Italian, French and English, which the library now holds.
Not that getting the money was easy. Taylor died in 1788, having stipulated that the University would only receive his bequest if his son, resplendently named Michael Angelo Taylor, died without a male heir. While this did eventually happen, Michael Angelo also tried to overturn his father's will – despite being one of the richest men in London.
That the money came to the University and the Taylor Institution was built has benefitted generations of scholars for over 170 years.
In the 1930s an extension – which is now our Teaching Collection – was built in the Art Deco style. It was formally opened by the Prince of Wales – who went on to become King Edward VIII, before abdicating. You can see photographs of the future king and all the senior academics of the day outside our lecture hall.
The original collection of books was partly created by donations, just as the original Bodleian Library had been at the end of the sixteenth century. Last year I was thrilled to come across a book that my great-great-great grandfather had given in 1849.
Since then, our collections have grown enormously – in fact, they have outgrown our building! In total, we have some 750,000 items (books, journals, a rapidly growing collection of DVDs, and… a lock of Goethe's hair). But only half of these are kept in the building. The rest being at the Bodleian's Book Storage Facility, some 40 miles from Oxford. (The Taylorian is one of the Bodleian Libraries.) Nevertheless, these books aren't mothballed but can be ordered using the University's online catalogue, SOLO (feel free to explore it). If the order is placed before 10.30 am on a weekday, it will arrive at around 2 pm that afternoon and most of our offsite books can be borrowed just as if they had been collected from our bookshelves.
Our bookshelves… As you can imagine, there are quite a lot of those. Sometimes I look along just a bay of them and I am overwhelmed by how many books there are. All that knowledge, all those ideas, all those opportunities for learning… In stacks and rooms reached by stairs that remind you of the library in Umberto Eco's The Name of the Rose…
Which is where the librarians come in. The Subject and Reader Services teams work together to make sense of the collections for our readers and to help them find what they need for their studies or research. The Taylor has a deserved reputation for the friendliness of its staff, their knowledge and their willingness to go the extra mile. One of the most important messages we aim to get across at inductions is that library staff are always there to help.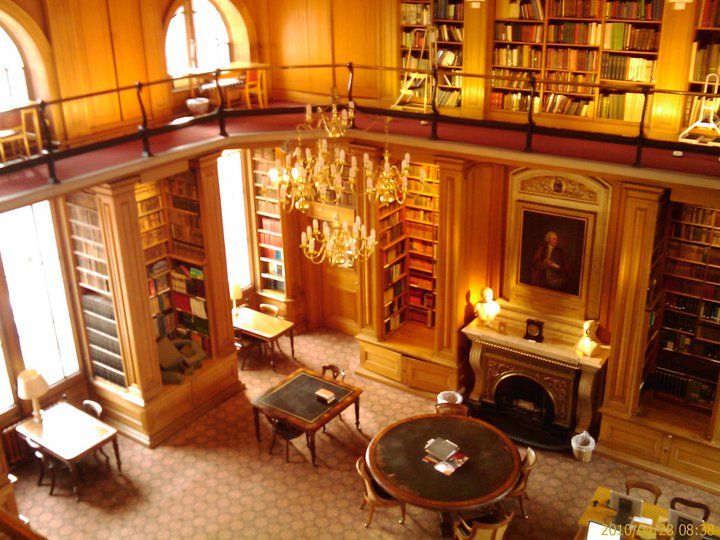 Our subject librarians also curate and expand our outstanding collections, buying new books, of course, but also ebooks and ejournals, and electronic resources. Not to mention putting together exhibitions of works from our special collections, arranging talks and teaching courses on how to access information and digital scholarship.
I've mentioned that you can get an impression of the richness of our collections by browsing the University library catalogue, SOLO, but for a deeper understanding of what they contain you can check out our website and, above all, the tremendous online guides that our subject consultants have created for their particular language. Here you will find not just information about what is available in Oxford but open (freely available) resources and websites.
Yet for all the convenience of the digital age, the Taylor Institution Library remains the human heart of Modern Languages research, teaching and learning. It contains quiet spaces, lecture rooms, a common room and corridors which are alive with discussion. Its staff are there to welcome, to help and to unlock the possibilities of its world-class collections.
Further info
Twitter
For regular updates follow us on Twitter (@TAYOxford).
Links
Frank Egerton
If there are any teachers reading the blog, you may also be interested in our  'Sir Robert Taylor Society Conference' – an annual conference for MFL teachers held each September in Oxford, and named after the founder of the library. More information is available here.