posted by Simon Kemp
Is it time for a classic? After a couple of recommendations of recent novels, I think it's time we had a go at one of the great masters of French literature, Gustave Flaubert.
The French novel, like the English one, had a real golden age in the nineteenth century, when writers like Honoré de Balzac, Stendhal, Émile Zola, and Flaubert wrote novels of sweeping social panoramas and vivid details of everyday life which have come to be known as French Realism. There are many masterpieces among them, including Balzac's Le Père Goriot, Stendhal's Le Rouge et le Noir and Zola's Germinal, but at many hundreds of pages, they can be a daunting prospect, particularly if, as a learner of French, you're tempted to tackle these authors in the original language. We'll come back to them some other time, but for now, I'd like to recommend a more modest way in to discover Realist literature: Flaubert's short story, Un cœur simple (A Simple Heart).
Flaubert said he wanted to write 'un livre sur rien' ('a book about nothing'), and in Un cœur simple he's not far off. Félicité is a poor and uneducated woman in rural France, who, after disappointment in love, takes up service in a middle-class household.
She is loyal to her widowed mistress and devoted to the children of the house. Her life has small pleasures and larger sorrows; she is generous with her kindness, which is not often repaid. In later life, her dearest love is a parrot.
Later still, her dearest love is a deceased parrot, stuffed and mounted on a perch.
Then, a gang of international art thieves mount an operation to steal the parrot, which they mistakenly believe to be an ancient Maltese statuette of inestimable value.
(Actually, not that last one.)
The story is funny, sweet and sad, and has the most beautiful ending. If you'd like a little introduction to the world of the Realist novel, and are prepared to consider that there might be more ways to write a great story than dramatic incident, extraordinary people or complex plotting, then you should give it a try.
You can get it as a single volume, as one of Flaubert's Trois contes collected together, or, of course, in English translation. If you like it, there are two places to go from here. One is Julian Barnes's brilliant Flaubert's Parrot, the tale of a Flaubert obsessive's attempt to track down the actual stuffed parrot Flaubert used for inspiration while writing Un cœur simple.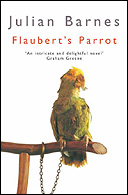 The other, of course, is Flaubert's Madame Bovary, most famous of all nineteenth-century French novels, where the same setting of humdrum small-town life in northern France is the backdrop to a rather more eventful life story, as the young heroine's dreams of romance, passion and high-society glamour cannot be reconciled with her apparent fate as the wife of a country doctor whose only aspiration is a pair of slippers by the fireside.