The Huffington Post celebrated Bastille Day last year with a list of fourteen things they reckon France does better than anyone else in the world. With France in the news for all the wrong reasons recently, I thought it might be a good moment to remind ourselves of everything that's brilliant about the country. Here's their selection:
As the French celebrate their national holiday on July 14, the love for their country will be on full display. What better way to mark Bastille Day than to give La Belle France kudos for the many stylish ways in which it trounces the rest of the world? From delectable delicacies to iconic structures, take a look at the reasons why we tip our hats — or excuse us, berets — to France for simply doing some things better than anyone else.
1) Enticing Visitors From Around The World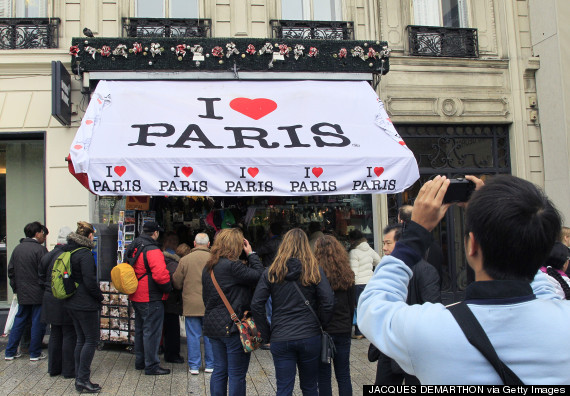 A tourist takes a picture of a souvenir shop at the Champs-Elysees in Paris. (AFP Photo/Jacques Demarthon)
It's not just the French who love their country; the world loves France too. France was the world's top tourist destination in 2012, with 83 million foreign visitors — that's almost 20 million people more than the country's total population.
2) Mastering The Art Of Affection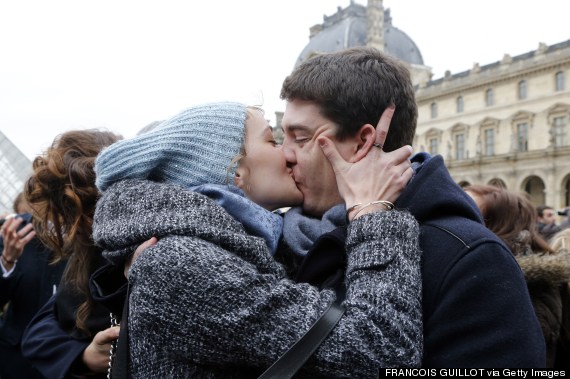 A couple kisses during a flashmob in Paris on February 14, 2014. (AFP Photo/Francoi Guillot)
With its cute bars, the banks of the Seine and magical Montmartre, Paris consistently tops the lists of most romantic cities in the world and is a top honeymoon destination. Words like "chérie," "amour," and "French kiss" have become part of a global lexicon of love. And the French aren't all talk either, as the country has consistently ranked among the countries whose inhabitants have the most sex.
3) Serving Lip-Smacking Pastries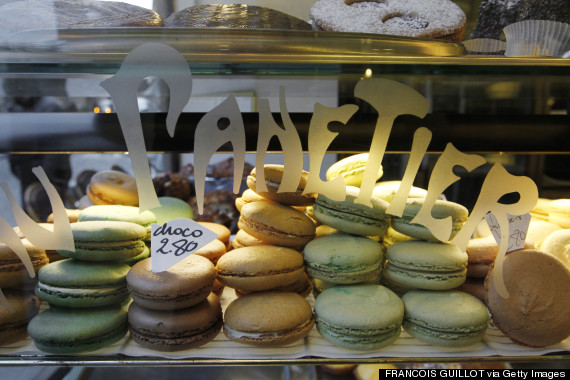 Macaroons at a bakery in Paris. (AFP Photo/Francois Guillot)
Croissants. Macarons. Éclairs. Madeleines. If your mouth isn't watering just thinking of these sumptuous French pastries, you should probably have your taste buds checked. Chefs like Christophe Adam, famous for his bright-colored éclairs, andMussipontain cake master Sébastien Gaudard have developed a fan base around the world.
4) Sharing Their Exquisite Wine With The Rest Of The World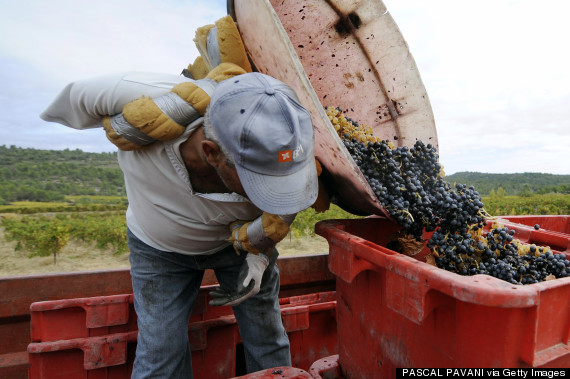 A horse-drawn cart is used to collect grapes at the Laur-Bauzil domain of the Massamier la Mignarde castle near the southwestern French town of Pepieux. (AFP Photo/Pascal Pavani)
While the French have surprised the world with a significant drop in wine consumption in recent years, the average resident of the wine heartland still drinks 1.2 bottles a week. And fear not — since France remains a top wine exporter, you can still imbibe as much Bordeaux and Burgundy as you'd like. France reaped in 5.6 billion euros ($7.7 billion) from wine exports in 2012. Demand from the Asian market for French wine has bolstered exports, with China guzzling down a whopping 1.36 billion bottles of wine last year.
5) Taking Their Demands To The Streets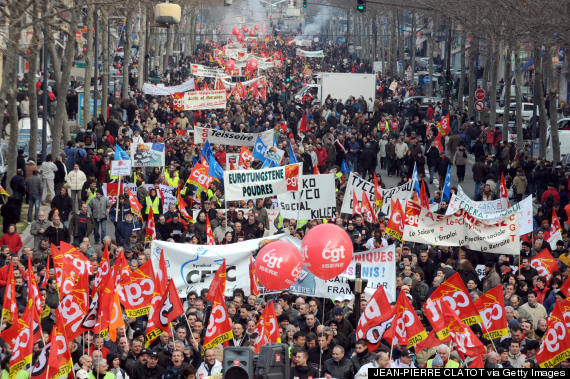 Some 30,000 people protest in the streets of the French eastern city of Grenoble. (AFP Photo/Jean-Pierre Clatot
The French seem to have perfected the art of protest. Whether it's a demonstration around a higher retirement age, train workers going on strike, or fed-up passengerspushing back against the train workers' strike, the French are never too shy to take their demands to the streets. Alternatives Economiques writes that while the country today sees fewer strikes than it did in the '70s, the nation still has more strikes than most other developed nations.
6) Having A Way With Words French playwriter and philosopher Jean-Paul Sartre in his study in Paris, on November 28, 1948. (AP Photo)
Albert Camus, Marcel Proust, Jean-Paul Sartre: The bon mot of France is world-renowned. But did you know France has taken home 15 Nobel Prizes in Literature — more than any other nation — since the inception of the awards?
7) Serving Award-Winning, Exquisite Cuisine French Chef Paul Bocuse and his assistants Gilles Reinhardt, left, and Christophe Mulle, right, in the kitchen of his famed Michelin three-star restaurant L'Auberge du Pont de Collonges in Collonges-au-Mont-d'or. (AP Photo/Laurent Cipriani)
France's gourmet tastes and history of fine dining make it no surprise that the nation received more Michelin stars than any other country in 2013. Recently, in Paris aloneyou could choose from 70 starred restaurants, 10 of which had received the exclusive three-star rating. In the Michelin rankings, only Japan comes close to challenging France's fame for food.
8) Taking Work-Life Balance Seriously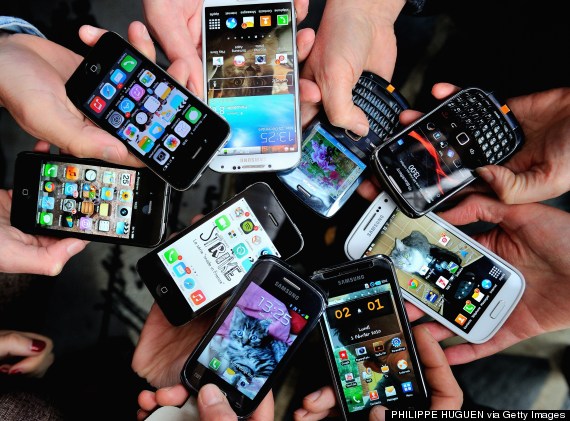 People show their smartphones on December 25, 2013 in Dinan, northwestern France. (AFP Photo/Philippe Huguen)
France's "joie de vivre" may stem in part from the government's strong record in defending workers' rights to disconnect. In 1998, the administration agreed on a 35-hour work week, after which overtime kicks in. And just recently
France amended national regulations stipulating that certain classes of workers should be guaranteed the ability to disconnect from remote working devices during 11-hour "rest periods."
9) Maintaining A Laissez-Faire Attitude Toward Their Leaders' Romantic Relationships Celebrity news magazines headlining on French President Francois Hollande are on display at a Paris newstand. (AP Photo/Zacharie Scheurer)
The rumors surrounding President François Hollande's romantic relationships have given the French much to chat about. But reports of infidelity are nothing new for French leaders: Several past presidents have confirmed their extramarital affairs. Perhaps most notorious was François Mitterrand's orchestrated announcement of his second family, which was kept secret for 14 years of his presidency. And many French people might be understanding of their leaders' romantic decisions: A poll from the Pew Research Center showed that the French are more accepting of infidelity than people in other countries.
10) Producing Elegant Mature Femmes Fatales Actress Catherine Deneuve poses for photographers as she arrives in Cannes for the film festival. (AP Photo/Thibault Camus)
With elder actresses like Catherine Deneuve and politicians like Ségolène Royal, the French have a handful of classic ladies of a certain age to look up to. And while many these celebs may hold their anti-aging tactics close to their chests, some have revealedquirky strategies: "The day I stopped using soap, my life changed," declared actress and TV presenter Léa Drucker.
11) Designing Haute Couture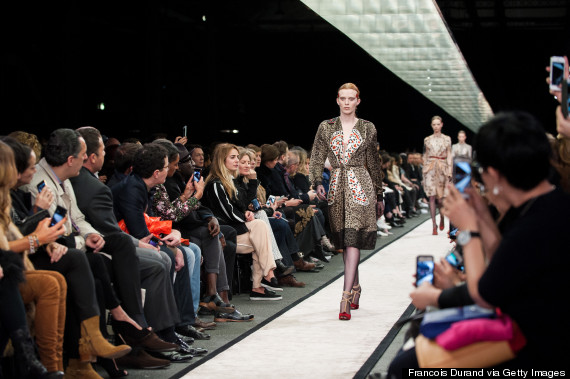 A model walks the runway during the Givenchy show as part of the Paris Fashion Week. (Francois Durand/Getty Images)
What can rival the iconic looks of Gaultier's striped sailor shirt, Louboutin's red-soled high heels or the suit jackets and pearls from Chanel? So strap on those stilettos and throw your scarf into the air if you want to even consider competing with those French fashionistas.
12) Building Beautiful Structures, Old and New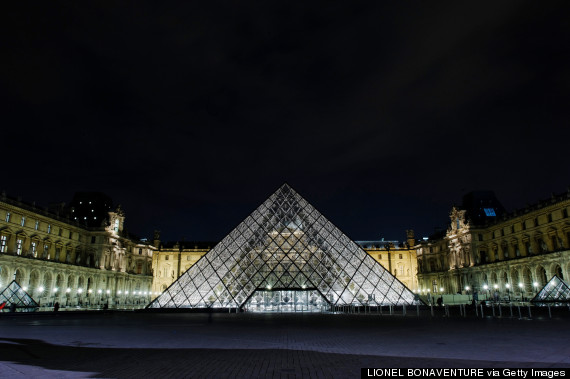 A picture taken at night shows the Louvre museum Pyramid. (AFP Photo/Lionel Bonaventure
France has gifted the world with some of the most iconic and breathtaking buildings,modern and classic alike. The Centre Pompidou museum and the Flower Towerresidential building are just some of the ultra modern pieces in Paris. Meanwhile, the Palace of Versailles is a masterpiece of secular baroque architecture; the Notre Dame Cathedral is a standard bearer of Gothic style; and the Eiffel Tower once wasconsidered one of the most avant garde structures of its time. And lest we forget the grandiose chateaux, which you'll find both in the sprawling countryside of the Loire Valley as well as in urban centers. France is among the top five countries with the most UNESCO World Heritage Sites: 39 of France's beautiful structures are currentlyprotected with the label, with an additional 37 submitted for approval.
13) Keeping The Wheels Going Round Bradley Wiggins and Mark Cavendish during the 20th stage of the the Tour de France in Paris, France, Sunday July 22, 2012. (AP Photo/Laurent Cipriani)
It's no wonder that it was a Frenchman who established the world record for being the fastest recorded centenarian cyclist, at 102 years old. Indeed, the bicycle and French culture go hand in hand. Not only does the French countryside provide for some of the world's best cycling routes, but the country is also home to the world's foremost cycling event: Le Tour de France. While last year's edition marked the tour's 100th anniversary, the tradition is actually 110 years old (it was suspended during the world wars).
14) Sneaking Their Words Into The English Language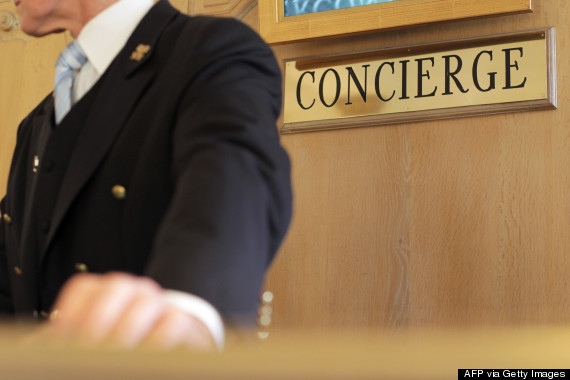 A concierge takes a reservation on January 4, 2013 in Cannes, France. (AFP Photo/Jean Christophe Magnenet)
It's a fait accompli: The French language has sabotaged English conversation with countless words and expressions. So whether you're an amateur or a savant of French idioms, you'll likely experience déjà-vu when listening in on a rapport between two Francophones. And with French as an official language in 29 countries, and one of the official languages of the United Nations, it would be quite the faux pas to not expand your cache of the so-called "Language of Love."