posted by Simon Kemp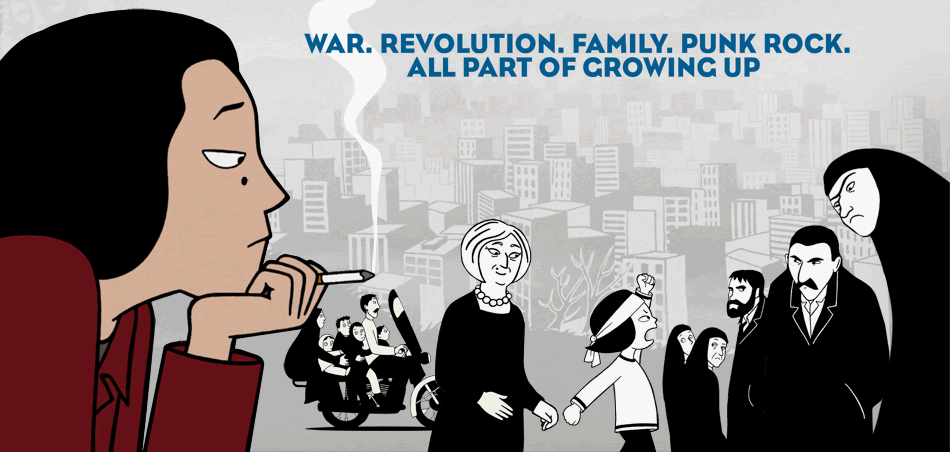 France has a thriving culture of comic books and graphic novels, but there's much more to it than the Tintin and Asterix books that are the best-known exports.
La Bande dessinée (or BD) is taken seriously over there, and it's definitely not just for kids. Iranian-born Marjane Satrapi is the author of Persepolis, a graphic-novel memoir of a childhood shuttling between Iran and Europe, and the quite literal perils of being a rebellious teenager under Iran's Islamic Revolution.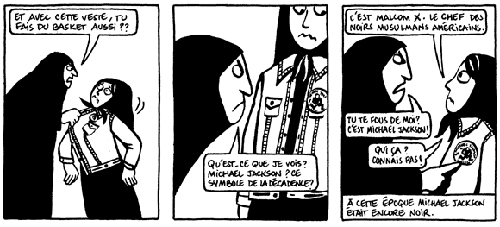 Now a French citizen, in 2007 Satrapi teamed up with animator Vincent Paronnaud to produce a film version of the graphic novel, which won the jury prize in Cannes that year and was nominated for an Oscar.
It's an extraordinary film, every frame hand-drawn, and often crisply beautiful or wittily surreal. (I like the sequence where Marjane catches her first European boyfriend cheating on her. The film quickly re-runs their relationship on-screen, only this time, the handsome, sophisticated young man we saw when Marjane was smitten has turned into a snaggle-toothed mummy's-boy slob.)
Warning: some adult language in the clip below!
At the heart of this extraordinary film, though, is an entirely ordinary girl, who just wants the same as lots of people her age. She wants to listen to music, hang out with her friends, wear what she wants and study what she likes, meet boys, maybe fall in love. But whether she's living under constant threat from the religious police in Iran, or as a lone foreigner in a cold, uncaring European city, living an ordinary life is a precarious activity, and you hold your breath as danger closes in on her.
The film's available in the French original version with subtitles, or in a dubbed version featuring Sean Penn and other Hollywood voices. Naturally, get the original, if only to experience the full horror of Marjane's enthusiastic off-key franglais rendition of the Rocky theme-song, Eye of the Tiger.