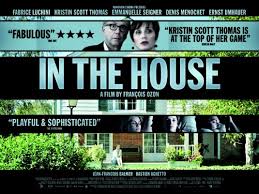 Our annual competition to rewrite the endings of French films in creative and unusual ways allows all kinds of entries. You can do it in English or in French, as a script or a story, or even as a youtube video. We're always hugely impressed by the amount of talent and hard work that goes into these entries, and so, to celebrate that, here's one of this year's winning entries from the Years 12-13 category. It's a new ending for Francois Ozon's film, Dans la maison, written by Jessica Harlap Binks, who has taken the ambitious route of producing a fully-fledged shooting script for a new ending, written entirely in French. Here's the whole thing:
Dans La Maison: An Alternative Ending
By
Jessica Harlap Binks
EXT. JOUR- DERRIÈRE DE LA MAISON
CLAUDE: Je suis venu vous chercher Esther.
Esther regarde Claude pour voir si ce qu'il dit est vrai. Elle le serre dans ses bras. Ils ne bougent pas pour un moment.
CLAUDE: Allons-y, vite.
ESTHER: Où irons nous?
CLAUDE: N'importe où. Je veux être avec vous, et seulement vous. Je vous aime.
ESTHER: Je t'aime aussi. Tu me manquais.
Ils s'embrassent, puis ils partent en courant, se tenant par la main.
INT. SOIR- LE SALON DE GERMAIN
Germain s'assied sur le canapé, un stylo et du papier dans les mains. Il se parle partiellement lui-même, et partiellement à Jeanne, qui prépare le dîner.
GERMAIN: Peut-être option D. Mais non, il n'y a aucune option qui marche bien de celles-ci. J'ai besoin d'une nouvelle option.
JEANNE: Arrête! Tu t'écoutes? C'est ridicule!
Elle range la table en colère. Germain s'assied à la table.
GERMAIN: Tu ne me comprends pas, Jeanne. Cette histoire a tant de potentiel.
Jeanne s'assied, désespérée.
JEANNE: Ce n'est pas ton histoire.
GERMAIN: Je sais, mais il veut que je la finisse.
LE PAPIER VIERGE EST VU SUR LE CANAPÉ.
INT. NUIT- LA CHAMBRE DE GERMAIN
Germain ne peut pas dormir. Il se lève, agité, et s'habille. Il prend ses clés, son manteau et son sac, dans lequel il place le papier vierge. Il sort de l'appartement, silencieusement.
INT. NUIT- LE COULOIR DE L'APPARTEMENT DE GERMAIN Germain trouve son portable et téléphone à Anouk.
GERMAIN: Anouk?
PAUSE.
Oui, c'est moi.
PAUSE.
Je sais, je sais. Mais Anouk?
PAUSE.
J'ai besoin de l'adresse d'une élève. PAUSE.
Je t'en prie. C'est la seule façon dont je peux… dont je peux l'aider.
PAUSE.
Oui. Rapha Artole.
PAUSE.
Germain écrit une adresse sur sa main, avec le sac sous le bras, et le portable entre l'oreille et l'épaule. Non, je ne le dirai à personne.
PAUSE.
Merci, Anouk. Dor bien, toi.
Germain finit le coup de téléphone.
INT. NUIT- LA CHAMBRE DE RAPHA
Claude est au lit. Le bruit de quelqu'un en bas et celui de la télé forte le réveille. Claude se lève, et commence à écrire au bureau avec une ferveur frustrée.
EXT. NUIT- DANS LA RUE
Germain cherche la maison avec l'adresse sur la main, et il découvre que c'est celle d'une petite maison miteuse. Il la vérifie, confus. Il supposait qu'il trouverait la maison de l'histoire. Il sonne, et attend. C'est Rapha Jr. qui ouvre la porte.
RAPHA: (trop épuisé pour être très surpris) Monsieur?
GERMAIN:
Est-ce que Claude est là?
RAPHA:
Claude? Qui est Claude?
GERMAIN: Hein? Claude, ton ami!
RAPHA: Dans nôtre classe?
GERMAIN: Oui…
RAPHA: Ah, non, je ne le connais pas très bien. Désolé.
GERMAIN: (sans le pouvoir de s'arrêter) Mais il vient ici presque tous les jours!
RAPHA: (nonchalant) Quoi? Je ne comprends pas. J'ai dit, je ne connais pas bien Claude.
GERMAIN: (confus et soudain anxieux) Merde! C'est vrai?
RAPHA: Mais oui! Il ne passe pas beaucoup de temps avec les autres élèves. Les seules fois que je l'ai vu avec quelqu'un, il était avec vous… a part ça, Il est toujours en train d'écrire.
Germain réalise qu'il y a quelque chose qui cloche. Il décide de le vérifier.
GERMAIN: Tes parents, comment s'appellent-ils?
Rapha voit que c'est un sujet sérieux, donc il ne questionne pas Germain. Il arrête d'essayer de comprendre ce qui se passe.
RAPHA: Pierre et Suzanne. Pourquoi?
GERMAIN: Rapha, as-tu une liste avec les adresses de tous les élèves dans la classe?
RAPHA: Peut-être, mais pourquoi?
GERMAIN: (qui ne veut pas expliquer) C'est une urgence. Trouve-la, vite!
RAPHA: Oui monsieur!
Il court à l'intérieur.
(en croyant que son rôle est très important) Je le ferai tout de suite!
Germain est seul, est il se frotte le visage avec les mains, confus et inquiet. Rapha retourne.
RAPHA: (fier) Voilà!
Germain saisit la liste, et la lit. Il n'écoute pas Rapha, parce qu'il cherche l'adresse de Claude. Je ne pouvais pas la trouver parce qu'il y avait un grand tas de papiers dans le bureau, donc j'ai passé longtemps à la chercher, avant de réaliser qu'elle était dans ma chambre. Désolé. Ça c'est tout, monsieur?
Germain trouve l'adresse et lève les yeux.
GERMAIN: (préoccupé) Oui. Merci, Rapha. Je suis désolé de ce qui s'est passé avec ton devoir. J'avais tort.
RAPHA: (acceptant les excuses avec un sourire) Bonsoir, Monsieur.
Rapha ferme la porte et Germain cour dans la rue, dans la direction de la maison de Claude.
INT. NUIT- LA CHAMBRE DE RAPHA
On entend la voix d'un homme qui crie en bas. Claude pleure pendant il écrit, et il s'essuie les yeux . Il écrit 'Option E' en haut de la page.
EXT. NUIT- DANS LA RUE
Germain se parle à lui-même en courant. Il cherche la maison de Claude, à bout de souffle.
GERMAIN: Qu'est-ce qui se passe? Qu'est-ce qui se passe? Où est la maison? Pourquoi Claude a-t-il menti? Ce n'est pas bien. Pas bien du tout.
Il voit la rue dans laquelle la maison est située (selon la liste), et il y tourne.
MONTAGE DE SÉQUENCES AVEC COMMENTAIRE (Le rythme de cette scène augmente d'un bout à l'autre.)
CLAUDE CONTINUE À ÉCRIRE, VRAIMENT BOULEVERSÉ.
COMMENTAIRE CLAUDE: Option E. L'histoire est vrai. Il y avait un garçon dans une maison.
ON VOIT CLAUDE DANS 'LA MAISON', OÙ IL MANGE DU PIZZA SUR LE CANAPÉ À LA PLACE DE RAPHA. ESTHER LUI FROTTE LES ÉPAULES DERRIÈRE LUI.
GERMAIN COURT DANS LA RUE.
Sa mère est tombée enceinte. Elle est partie.
ESTHER ET RAPHA SENIOR SE DISPUTENT PENDANT QU'ELLE FAIT UNE VALISE.
GERMAIN S'ARRETE POUR VERIFIER LE NUMÉRO DE LA MAISON. LE PAPIER DIT '15', ET IL EST EN FACE DE LA MAISON 1. Son mari est tombé malade. Il boit toutes les nuits.
LE PASSAGE DU TEMPS À TRAVERS LE MOIS MONTRE RAPHA SENIOR QUI DEVIENT DE PLUS EN PLUS FÂCHÉ ET COMMENCE À BOIRE AU SALON PENDANT QUE CLAUDE LE REGARDE.
GERMAIN SE DEPÊCHE APRÈS LA MAISON 2.
Le garçon tombe amoureux de son camarade de classe.
CLAUDE REGARDE RAPHA, QUI JOUE AU BASKET AVEC SES AMIS À L'ÉCOLE.
Il ne peut pas s'empêcher de penser constamment à lui.
LE PLAN DE RAPHA QUI S'EMBRASSE CLAUDE, SUIVI PAR L'IMAGE DE CLAUDE QUI A UN CAUCHEMAR AU LIT, COMME RAPHA AVAIT EU PLUS TÔT.
GERMAIN COURT APRES LES MAISONS 3, 4, 5.
Quand son prof lui donne le devoir d'écrire, il décide d'écrire une histoire.
UN PLAN DE GERMAIN, QUI ÉCRIT LE DEVOIR AU TABLEAU. L'histoire de sa vie. Mais il ne veut pas que ce soit son histoire.
CLAUDE S'ASSIED SUR LE BANC, OÙ IL COMMENCE À ÉCRIRE. Donc, elle devient l'histoire de son camarade de classe, la seule personne dans sa tête qu'il puisse supporter.
UNE IMAGE DE CLAUDE DANS 'LA MAISON' AVEC RAPHA SUPÉRIEUR ET ESTHER DEVIENT UNE IMAGE DE RAPHA AVEC EUX.
GERMAIN CONTINUE APRÈS LES MAISONS 7, 8.
La maison est démolie. Ce n'est plus une famille normale. Il continue à écrire pendant des semaines- des mois.
UN MONTAGE DE PLUSIEURS JOURS, OÙ CLAUDE EST TOUJOURS EN TRAIN D'ÉCRIRE AU BUREAU DE SA CHAMBRE, AFFECTÉ.
GERMAIN COURT PLUS RAPIDEMENT APRÈS LES MAISONS 1O, 11, 12.
Il pense que peut-être, son prof pourra l'aider. Il peut le sauver de cette vie.
LA SÉQUENCE OÙ CLAUDE DONNE SON PREMIER DEVOIR À GERMAIN
EST RÉPÉTÉE, MAIS DU POINT DE VUE DE CLAUDE, POUR QU'ON PUISSE VOIR LE DÉSESPOIR DE CLAUDE, QUI VEUT L'AIDE DE SON PROF.
LA MAISON 13.
Mais non, le prof veut seulement l'histoire, pas la vérité.
LA SÉQUENCE OÙ CLAUDE DONNE LES QUATRES OPTIONS À GERMAIN EST RÉPÉTÉ, MAIS DU POINT DE VUE DE CLAUDE. APRÈS QUE GERMAIN EST PARTI, CLAUDE CONTINUE DE SE BATTRE, EN SE COGNANT LA TÊTE CONTRE LES MURS. IL SAIGNE ET PLEURE.
LA MAISON 14.
Esther ne se retourne pas.
LA SÉQUENCE DE CLAUDE ET ESTHER OÙ ILS S'ÉVADENT EST INVERSÉE, ALORS CLAUDE DEMEURE SEUL.
Elle ne trouve pas Claude, et ils ne s'évadent pas ensemble.
EXT. NUIT- DANS LA RUE
Germain arrive à la maison 15, haletant, et voit par la fenêtre que Claude s'est pendu. Il est dans la même salle de bain et dans la même position que Rapha était dans la scène plus tôt, ce qui suggère que quand il l'a écrite dans l'histoire, c'était un appel à l'aide.
COMMENTAIRE CLAUDE: Fin.