This week on Adventures on the Bookshelf we are showcasing another career path one of our graduates has followed. Emily Duggan, from Taunton in Somerset, now works as a Translator and précis-writer at the United Nations Office at Geneva (UNOG), Switzerland. Emily graduated with a degree in French in 2010. Here, she tells us about how she went from Oxford to the UN.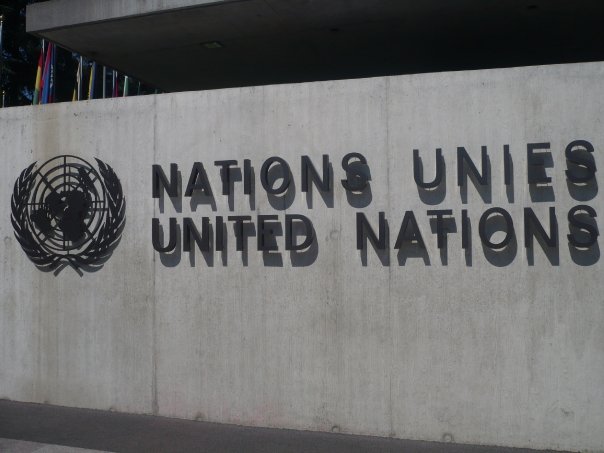 I studied French at the Queen's College from 2006 to 2010. During my year abroad in Paris, I worked first as a language assistant in two primary schools, then as an intern in the dictionary department of Éditions Larousse. After graduating, I decided to take a break from studying and moved to London, where I worked as a teaching assistant in a primary school. My language skills were put to good use: I ran an after-school French club with the French language assistant and helped to organize a school trip to Paris.
In 2011, I moved to Paris to pursue a two-year Master's course in economic, technical and editorial translation at the École Supérieure d'Interprètes et de Traducteurs (ESIT), with financial support from the Leverhulme Trust. As part of the course, I completed a three-month internship at the United Nations Educational, Scientific and Cultural Organization (UNESCO). I was inspired by that experience – the nature of the work, the focus on quality, the multicultural environment – to aim for a career in an international organization.
When I graduated from ESIT, I was offered an internship, then a full-time job, at the French Ministry of Foreign Affairs. The work was fast-paced and varied; I translated a wide range of documents, including speeches, reports, press releases and blog posts. In 2015, I passed the United Nations language competitive examination and was recruited by the United Nations Office at Geneva shortly afterwards. Although the work is intense and challenging, with short deadlines and strict editorial rules, it is also very rewarding. I am proud to work for an organization that is devoted to maintaining international peace and security and to protecting human rights worldwide.