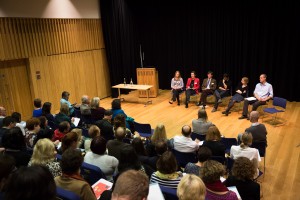 The Sir Robert Taylor Society is a network of teachers of Modern Foreign Languages in secondary schools, academics in the Medieval and Modern Languages Faculty at the University of Oxford, and others who have an interest in Modern Languages. It is named after the founder of the Modern Languages Library at Oxford (the 'Taylor Institution'), Sir Robert Taylor.
Our annual conference takes place in September at the University of Oxford, and provides a unique forum for interaction and exchange between the University and teachers.
Sadly, we have had to cancel this year's meeting in Oxford. Instead, we invite you to join us remotely for a series of live events which we are planning for Friday 25 September, from 4.30 until 7pm. We'll be hosting the event on the Sir Robert Taylor Society website, which is here. It will consist of talks and Q&As between modern language teachers, Oxford tutors, and current undergraduates, with the British diplomat Sir Simon McDonald as our special guest .
If you teach modern languages in a UK school and you'd like to attend this online meeting by emailing us at schools.liaison@mod-langs.ox.ac.uk. At the same time, please do mention any questions you would like to submit in advance. These may be about the study of individual languages and literatures at Oxford (whether post-A or from scratch), the year abroad, career destinations, or any aspect of the application process. Live questions will also be welcome on the day!
We'd like to draw the attention of modern languages teachers to two resources in the meantime:
1) Oxford University's Virtual Open Day on 18 September, which you and your students are very welcome to 'attend'. For further details please see:
https://www.ox.ac.uk/admissions/undergraduate/virtual-open-day
2) The Oxford University Medieval and Modern Languages webpages, where you can find a collated list of resources to support your teaching, and also to guide you and your students through applying to Oxford and the experiences of studying here, with plenty of input from current students! These resources can be found here: