Following a successful two-year run, University College, Magdalen College and the Faculties of History and Modern Languages are delighted to announce that the virtual BAME Humanities Study Day will return on Tuesday 12th April 2022!
This event offers UK state school students with Black, Asian or Minority Ethnic (BAME) heritage an exciting opportunity to engage with academic taster sessions from across the Humanities subjects, and also to access support with the Oxford admissions process.
Last year, students chose to attend two academic taster lectures on fascinating topics such as:
Is a robot a human? Ancient dreams of a technological future (Classics)
Representing the First World War (History)
Sixteenth-century French Women's Writing: Challenging Gender Expectations in selected works of the Dames des Roches (Medieval & Modern Languages)
Islam and Politics in the Middle East (Oriental Studies)
Decolonise Art History? (Art History)
Medieval English and Arabic Devotional Texts (English)
These talks offer students the opportunity to engage with topics which lie outside of their school curriculum and introduce them to studying subjects they love at university level. Like last year, these taster sessions will be supplemented by interactive admissions workshop delivered by outreach colleagues from across the collegiate university with assistance from our fantastic student ambassadors.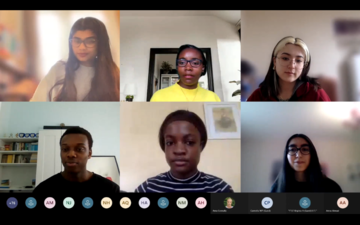 There will also be an opportunity for participants to ask lecturers and current students questions about studying the courses they are interested in. Last year, this opportunity to engage with academics of BAME heritage was a highlight for several of the participants with one commenting that their favourite part of the event was:
"Seeing people of colour in academia! All the professors were such wonderful people and so down to earth and their talks were so engaging."
Another participant commented:
"Originally, I wasn't sure about applying to Oxford at all, but this study day gave me more confidence in my ability and made my voice feel more important and valued, something which often does not happen at school."
If you are interested in attending this year's BAME Humanities Study Day, you can apply here until 20th February when applications close. Don't miss out on this fantastic opportunity!
Thank you to the Faculty of History for the information about last year's BAME Humanities Study Day. The full event report is available here.