The Stephen Spender Prize for poetry in translation, in association with The Guardian, is now open for entries. Anybody in the UK and Ireland can enter, regardless of age or linguistic skill. The Stephen Spender Trust's (SST) Resources hub is full of virtual resources to make the prize accessible from home, as well as teaching packs to bring poetry translation into the classroom.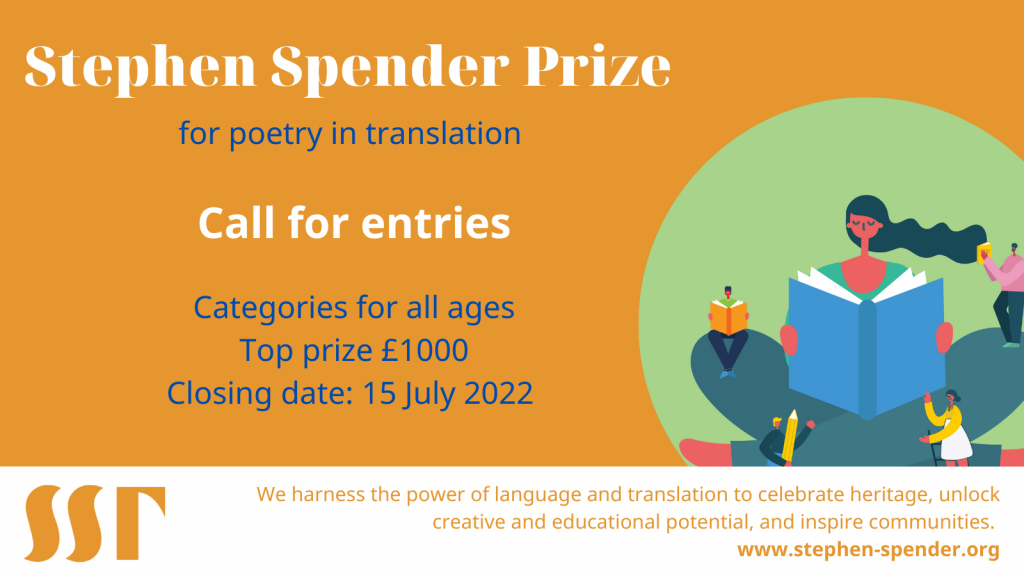 This year, the prize is more inclusive and vibrant than ever, from British Sign Language translation to new prizes for first-time entrants. SST's virtual poetry booklets collect together poems in more than 17 languages.
SST Director Charlotte Ryland:
"Poetry translation is a perfect activity for these challenging times: it is a gentle and structured approach to creativity, without the intimidating blank page that can put off many would-be poets; it is an opportunity for parents and children to work together, in particular in families where more than one language is spoken; and it is a task that can be shared with peers and teachers."
This year's judges are acclaimed poets, translators and educators Khairani Barokka, Daljit Nagra and Samantha Schnee.

Closing date: 15 July 2022
Categories: Open (adult), 18-and-under, 16-and-under, 14-and-under
Top prize of £1,000
All winning entries published in the 2022 Stephen Spender Prize booklet
Special 'Spotlight' prize for translation from Romanian, judged by Gabi Reigh
Full details on the SST website. Good luck to all participants!